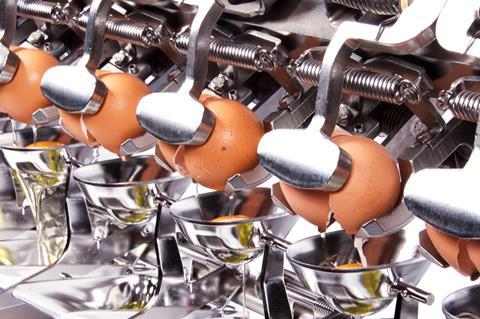 Food manufacturers should switch from imported to domestically produced eggs to protect from the risk of shortages the event of a no-deal Brexit, the British Egg Industry Council has warned.
Currently 25-30% of eggs used in food manufacturing are laid and processed abroad, according to the BEIC. That's the equivalent of around 1.7bn eggs a year, the majority of which are currently imported from mainland Europe.
With the UK's EU departure approaching and no deal yet agreed, the BEIC has urged suppliers to commit to contingency planning with UK egg processors to prevent supply disruption after 29 March.
Otherwise, British shoppers could face shortages of egg sandwiches and some of the other 10,000 products made with manufacturing eggs in the event of a cliff-edge Brexit, it warned.
"We've talked about a storm brewing but it's now here, and that won't change, deal or no deal. We will work with manufacturers and retailers to manage their requirements as best we can but those conversations need to happen sooner rather than later," said British Lion Egg Processors chairman Ian Jones.
"The ramifications of Brexit on egg products supply are unlikely to be resolved quickly so food businesses also need to work with the processing industry on long-term sustainable agreements to minimise its impact."
Tom Lowrie, MD of processor Lowrie Foods, agreed there was "plenty of scope for producing more in the UK", with infrastructure in place to process the shortfall imported from abroad. However, the process of increasing the flock was slow, and the whole topic had been "overshadowed by Brexit", he added.
Switching to British eggs would also help improve food safety, claimed the BEIC, which has partnered with food safety experts to promote the British Lion quality mark.
The UK had already seen three years of consecutive growth in its flock to meet growing appetite for British eggs, matched by a decline in imports over the same period, it added.
"There is a common misconception that non-UK processed eggs can offer similar guarantees of food safety as those products produced under the British Lion mark," said Jones. "We have been talking to retailers, food manufacturers and food service companies for a number of years to ensure we can support them where they need it and while we can't increase the flock overnight we can work with them to manage demand accordingly," Jones added.