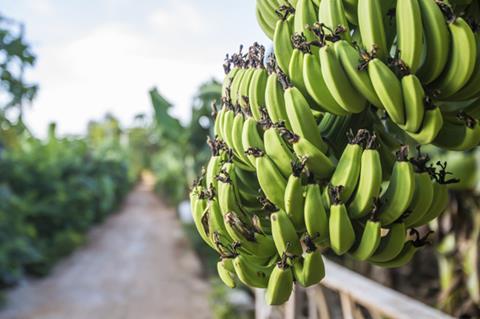 Aldi has been accused of undermining its own public commitments on CSR after the pricing for its 2021 banana contract was reported to have fallen year-on-year.
The German discounter's fixed contract price for the fruit was reported by shipping news site Reefer Trends to have fallen €0.06 per kilogramme against its 2020 price.
This was said to bring its overall price per box down to €11.33 – below what NGO Banana Link described as an "all-time low" price of €11.87 per box in 2019.
Aldi has not disputed the figures but insisted it had not proactively set out to bring prices down and stressed it would not affect the price paid to growers for their fruit.
It said the lower contract price had been brought about by a fall in the exchange rate between the US Dollar and the Euro as well as lower transportation costs caused by the collapse of oil prices during the coronavirus pandemic.
Banana Link and a conglomerate of Latin American producers accused the retailer, which leads European banana prices owing to its annual contract being the biggest in the region, of going against commitments it had previously made to the banana industry.
In 2018, it joined the World Banana Forum with a pledge to "listen and learn", while in January 2020 it announced its intention to support living wages for farmers in its global supply chain at the Berlin Green Week.
Banana Link's international coordinator Alistair Smith said the discounter's 2021 pricing arrangement "sent a very bad signal" to the banana market about its attitude towards its CSR commitments.
"Aldi is listening and not learning," said Smith. "They are moving [on ethical commitments] but we encourage them to move faster.
"Aldi needs to align their purchasing practices with their ethical aspirations. We would encourage their commercial decision makers to become more open to discussion both in the World Banana Forum and with the Latin American trade unions."
Smith added his fear was that producers receiving a lower price would now squeeze labour costs, leading to "tensions, conflict and unnecessary instability" as a result of the price cut.
Under the banner of Banana Growers of Latin America, producers representing 65% of the world banana trade said the reduced price amounted to "double standards" from Aldi.
In a statement, they said: "Producing in a sustainable way entails costs which are assumed exclusively by the producer while the rest of the value chain actors avoid any responsibility.
"We therefore denounce supermarkets, like Aldi, [who] do not assume their share of responsibility and maintain an opaque negotiating position that endangers the subsistence of the producers."
In response to the allegations, an Aldi spokesman said, "We work hard to ensure everyone in our supply chain is paid a fair price and are a signatory of the Living Wage Commitment.
"We are also a member of the World Banana Forum and support the Cost of Sustainable Production working group. All of the own-brand bananas we offer in the UK are certified by either the Rainforest Alliance or Fairtrade."