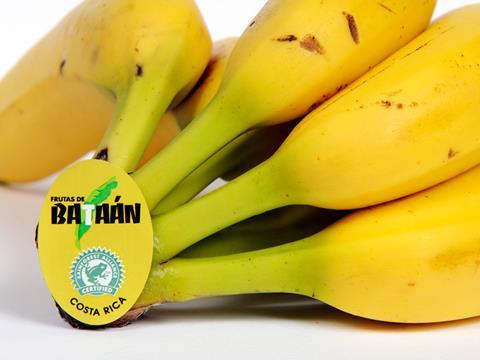 Lidl's decision to switch its entire supply of bananas to sustainable sources is set to be followed by another major UK food retailer within the next few weeks.

Lidl announced plans on Monday to increase the amount of Rainforest Alliance-certified bananas it sources from about 33% to 88% of total supply by the end of the year, with the remaining 12% coming from Fairtrade Foundation farms.

Asda made a similar move last November, and industry sources say another major retailer is set to follow suit, meaning up to half of all bananas sold in UK supermarkets could be RFA-certified by the end of the year.

The likes of Tesco, Aldi and Morrisons are yet to fully commit to 100% sustainably sourced bananas.

The number of RFA-certified bananas grown globally had risen from just over 1 million tonnes in 2010 to 5.9 million tonnes in 2014 [RFA], and this growth had been ­mirrored in a "noticeable rise in the number of UK retailers offering bananas carrying the RFA seal", said its vice president of market transformation Dominique Gangneux.

"An increase in demand for the ethical option has led UK retailers to consider third-party certification as a real must."

But while welcoming the sentiment of the switch, NGO Banana Link warned only Fair-trade Foundation farms guaranteed a minimum price for workers. "We have major concerns about the RFA's capacity to verify labour standards," it said.