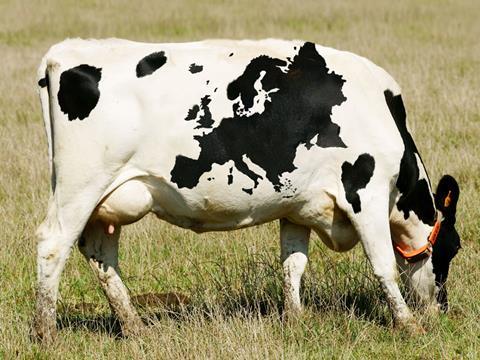 On 31 March, the long-awaited abolition of milk quotas will lift limits on EU dairy production after more than 30 years. It will mark a new era for European dairy and has raised expectations and fears (depending on where you stand) of a boom in European dairy production.
So how much will production increase and what are the implications for British dairy?
For UK farmers, the immediate post-quota environment will actually be very much business as usual, suggests dairy expert Hamish Renton. "The fact the UK hasn't been in danger of going over quota for over a decade means there is no sense of pent-up production," he adds.
Despite some countries, including the Netherlands and Ireland, targeting aggressive expansion of their dairy sectors, production in other EU member states is not expected to soar immediately either.
Recent turbulence in the industry - borne out of falling demand and farmgate prices - is partly to thank for that; it would have made producers think twice before increasing production, says John Allen of Kite Consulting. "One would argue the crisis in the industry has actually mitigated against a wall of milk post quota."
DairyCo senior analyst Patty Clayton agrees low milk prices could constrain production, despite there being "cows on the ground" ready to up production in Germany, Poland, the Netherlands, Denmark, Belgium and Ireland.
Plus, although EU quotas will be gone, many producers will still be under production restrictions from their processors, notes agricultural quota broker Ian Potter. An example of this would be A and B pricing formulas recently introduced by the likes of First Milk. The threat of a super-levy on some EU states has also led to a scaling back of production, he adds.
However, these constraints are likely to be only a "short-term" hurdle to increased production, warns Potter. "Without doubt several northern European states are going to ramp it up in the longer term."
Indeed, Allen believes EU dairy output could rise between 5% and 10% over the next five years - and the UK may not be in a position to keep pace.
The problem? Processing capacity. The current lack of UK processing capacity for milk powder and whey is becoming a major concern, says Renton, and could already cause problems this spring, when milk production is expected to be high - a problem that would only be exacerbated by any increases in European production.
New opportunities
It is therefore vital the UK invests in new processing capacity, believe experts. If it does, it could once again become a dairy exporting nation, and the benefits to the UK dairy sector would be enormous, says Renton. "Exporting takes the focus away from the relentless war of attrition whereby the few remaining processors compete at cutthroat margins for the large retailer fresh white milk contracts."
However, while the UK is making "baby steps" in terms of developing its limited processing capacity, Mike King, vice chairman of the Royal Association of British Dairy Farmers, warns it will remain challenged by its more assertive European cousins in lucrative export markets: "While UK processors sit still, those expanding states will remain a threat."
The processors don't necessarily agree. A spokesman for Müller UK & Ireland warns "it's not just about investment in stainless steel", and companies will have to invest in "product development and marketing to build demand and add value".
For now, it looks as if any post-quota surge in production in the UK will be tempered by the continued pressure on price, as well as limited processing capacity. If European production does increase, the UK dairy industry will have to fight harder to keep up.
EU quotas
The quota system was introduced in April 1984 in an attempt to eradicate the notorious butter mountains and milk lakes caused by the EEC's production-linked subsidies, and has been extended several times past its original 1989 expiration
The EU decided to abolish the system in 2008 as it moved away from direct intervention and towards a more market-orientated CAP, and has increased the quota size by 1% each year since to provide producers with a "soft landing" ahead of the end of the quota regime on 31 March