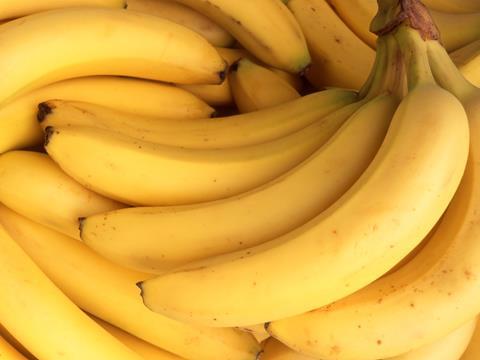 Asda has slapped price increases on four banana SKUs amid tightened supplies of the fruit across Latin America.

The supermarket has hiked the price of its Grower's Selection ready to eat bananas five-pack (up 3p to 90p); an eight-pack of its Chosen by Kids bananas and a five-pack of its Grower's Selection organic bananas (both up 15p to £1.15); and a six-pack of its Grower's Selection Fairtrade bananas (up 5p to £1.25) [Brand View].

Lidl has also increased prices on three separate banana SKUs during the past fortnight, while Sainsbury's pushed the price of a five-pack of Fairtrade bananas from 85p to 90p in October.

It follows a price increase of 4p on a kilo of Asda loose bananas to 76p in September, and comes amid a sustained period of inflation in the sector, with average year on year wholesale prices jumping by 15.3% to £741/tonne last week [Mintec].

Adverse weather conditions in the main producing regions of Latin America during the past few months had slowed supply to Europe, said Mintec analyst Rutika Ghodekar.

There had actually been an excess harvest of bananas earlier in 2017, she said. "However, growers opted to destroy the excess production, leading to low supply."

Other factors included low year-on-year production in Ecuador and Colombia, which was not sufficient to meet increasing market demand, Ghodekar said. "Importers have reduced their volumes due to the low quality of produce available, meaning traders are unable to handle the risk, both of low supply and poor-quality produce, which has increased prices."
The price increase was welcomed by Alistair Smith, international co-ordinator of NGO Banana Link, but he warned retail prices remained low across the UK and increasingly Europe.

"This move should give some breathing space to growers, but the trend on prices globally is still going in the wrong direction, and the problem will be made worse next year by overproduction. What Asda has done is more to do with reconstituting margin."

Asda declined to comment on why it increased prices, but did say "there are no supply issues with bananas at the moment".