India's £305bn food and foodservice sector shows clear trade and investment opportunities for UK companies. The relatively basic level of food manufacturing and processing infrastructure in India represents a significant chance for UK firms to profit from a booming Indian food sector and its increasing role in global trade.

According to a new report by Santander UK and India's Yes Bank, the Indian food and foodservice market is expected to grow to £500bn by 2020, making it one of the world's fastest growing food markets.

Though the sector is booming, there are high levels of wastage and low levels of processing in manufacturing. As a result, only 25% of the sector is today considered 'organised'. With the growth pressures on the foodservice sector and growing output, this equation needs changing - something that is recognised at the highest levels in India.

India's strategic location and its diverse raw material base present a plethora of trade and investment opportunities for UK firms across the value chain, ranging from the introduction of novel consumer food products and technology upgradation to establishing cold chain and logistics infrastructure.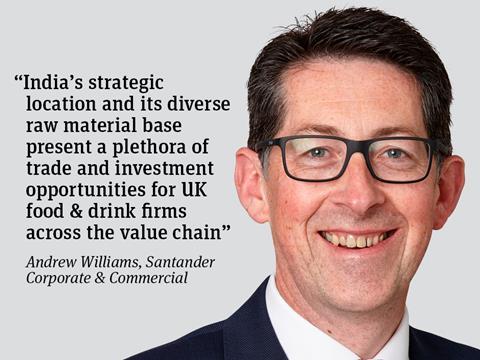 By exporting equipment, knowledge and expertise required to build robust food processing infrastructure such as food parks and cold chain storage, there are opportunities for UK manufacturers to modernise India's food security and reduce wastage. From an investment perspective, there are opportunities to manufacture locally to satisfy local demand at a local price point or for regional export.

India has long struggled to modernise its supply chain. But increasingly the Indian government has put in place incentives to support and recognise that a potential boost to food processing would lead to significant waste reduction while having a cascading impact on income.

The government of India has accorded the food processing industry priority status with a three-pronged objective of boosting production. The industry has benefited from significant policy reforms over the past few years including allowance of 100% Foreign Direct Investment, access to credit, tax incentives and duty exemptions. A recent initiative is expected to create £700m of food-related infrastructure in the next three years. This alone is expected to leverage more than £3.5bn worth of private investment in food processing.

The Food & Drink Federation recently concluded that India is one of the top three markets that UK food & drink businesses would like to target - a fact recognised by the UK government, which has included India as a priority market in its latest food & drink export action plan, targeting £349m of additional sales over the next five years.

In conclusion, the Indian food & drink sector is in a dynamic position. Tax and investment reforms make it the ideal platform for UK companies seeking to widen their footprint in a globalising economy. Demand for our food & drink products themselves has never been higher.

Andrew Williams is UK business development director - food & drink, Santander Corporate & Commercial