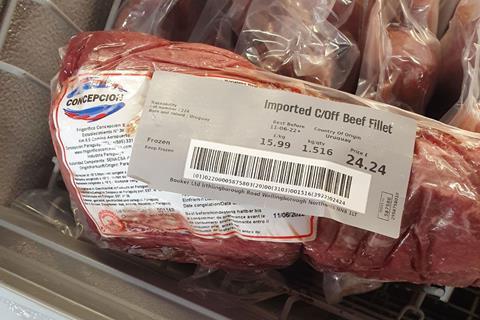 Booker is under fire for "misleading" labelling on its imported frozen beef for the second time in three months.
The National Beef Association called out the wholesaler this week after it found original labels on certain Uruguayan beef products had been covered with a Booker label to extend the best-before date from March 2021 to July 2021.
The new label meant "most of the original information" was no longer visible, including the freezing and slaughter dates, the NBA said.
While it is not illegal to change the 'best before' date on food, Defra confirmed frozen food must display the date on which it was frozen under food safety regulation.
NBA CEO Neil Shand said the mistake was "misleading" to the public. "Transparency, accuracy and honesty in labelling is imperative," he added, particularly if the UK began importing food produced to lower standards following post-Brexit trade deals.
It is the second time this year Booker has been accused of relabelling its frozen beef. Following a similar incident in September, Booker commercial director Dominic Morrey said it was a "human error" and "not in line with our required procedure".
A Booker spokeswoman said this week: "We regret that this second instance has happened. However, it is basic human error, isolated and not deliberate."
"We are updating our training packs and regular checks in response to this to ensure any labels are placed correctly."
The FSA confirmed it was looking into the incident.