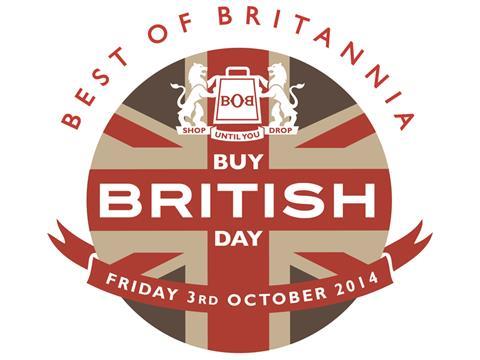 Popping to the shops today? You may want to take the time to look for a 'Made in Britain' label.
That's the premise of the first 'Buy British Day' – Friday, 3 October – which is hoping to get people spending cash on British craftmanship, whether it be designer items, clothes, or foodstuffs.
"The idea is to galvanise everybody," says Antony Wallis, organiser. "We want to get as much awareness as possible - if it means promos in store, or sticky labels, or advertising, or roadshows, then so be it."
Buy British Day is intended to complement Wallis' annual Best of Britannia event, which is taking place in London from Thursday until Saturday, at the Farmiloe Building in Clerkenwell. Best of Britannia, which launched in 2011, brings together over 200 British brands under one roof, including a handful of food and drink suppliers: Meantime Brewing, Fever-Tree, London Velvet and The Bay Tree Food Company.
"It's good to buy British," explains Wallis. "If you care about Britain, you'll buy something British and feel good about it. You're getting something really well made and innovative, and you know you're doing something good for the economy - it helps employment and apprenticeships."
Wallis, whose background as a brand consultant included work on the BA Concorde in the 1990s, compares the impulse to buy British goods with the quest to buy organic food – consumers are becoming savvier, more demanding, and keen to "know the stories behind the products". "And the truth is, you're not paying that much more," he says.
UKTI seems interested in the Buy British Day initiative, and supported its official launch at a House of Commons event in July. Wallis has enlisted the support of Wayne Hemmingway among others to promote the cause, and the #BuyBritishDay hashtag has been gathering some momentum on social media.
The next step is expansion: "We're looking at opening in different cities and overseas, though we would need help with that," says Wallis. To that end, Best of Britannia launched a fundraising drive on CrowdCube earlier this week. (It's Best of Britannia, by the way, because "Britannia is the personality of the country. And that's what we're about – personality").
Whether shoppers can be convinced to part with a little extra – sometimes a lot extra, let's be honest – for a product with British pedigree remains to be seen.
But there's certainly evidence that overseas consumers may be willing to cough up: research by Barclays, published today, suggests the label 'Made in Britain' triggers a willingness to pay up to 7% more among customers in new and emerging markets than for products without a declared country of origin.
Moreover, 'Made in Britain' carries a higher premium than 'Made in England/Scotland/Wales'; Barclays reckons British exporters could unlock a £2.1bn premium by branding their products in such a way.
So, now the Scottish question is seemingly settled, it's time to cash in on Brand Britain.