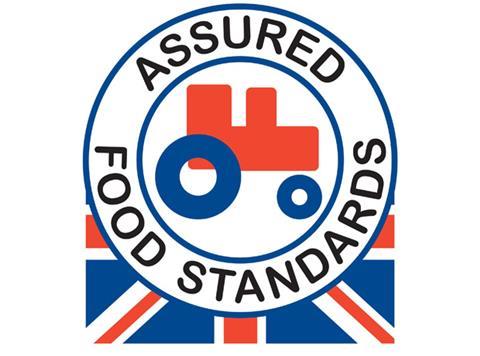 The UK's existing food assurance labels should be abolished and replaced by a single, more comprehensible system, food safety expert Professor Chris Elliott has claimed.
Elliott, professor of food safety at Queen's University, Belfast, told the NFU annual conference yesterday that labels such as Red Tractor, Fairtrade and RSPCA Assured were too confusing for customers and no longer drove purchasing decisions.
All products should instead be labelled with the same three scores that assess sustainability, nutrition and ethics, he said. An ethical score would cover the product's impact on animals and people, including issues like child labour and slavery.
"There is a recognition that things have to change," he told The Grocer. "Red Tractor does not have the same traction it had 20 years ago.
"If you suddenly had a red score for ethics then it will absolutely change people's buying patterns."
An alternative labelling system would place greater pressure on manufacturers to enhance their supply chains and production methods, Elliott said. The scheme could be initially tested voluntarily on British products, before being rolled to also cover foreign food imports, he added.
However, David Henig, director of the UK Trade Policy Project, questioned whether the legality of such a labelling system could be challenged at the World Trade Organization if a country felt it discriminated against their products.
"We don't know yet but it's the sort of thing we should definitely be trying," he said.
Michael Gidney, chief executive of the Fairtrade Foundation said shoppers deserve clear and robust labelling, but this is not the solution.
"The idea of a single label for sustainability, nutrition and ethics might sound appealing but would not work in practice - there are simply too many trade-offs."
Clive Brazier, chief executive of RSPCA Assured, said it is wrong to claim assurance labels are too confusing.
"Almost 90% of people recognised that RSPCA Assured means higher animal welfare in our latest customer research, and the amount of food carrying the RSPCA Assured label jumped by a quarter between 2018 and 2019," he said.
Nick von Westenholz, NFU director of EU Exit and International Trade, told the NFU conference that Brexit was an opportunity to improve the country's food standards, ensuring customers could purchase safe and nutritious food that was sustainable and ethically produced.
"If Brexit is going to mean anything it should be about taking leadership on these types of issues," he told the conference audience.
"It should not just be about finding the goods at the cheapest possible price."
Shoppers underestimate the impact of food choices on climate change, but will favour items with a lower carbon footprint if provided with clear information on the label, according to a 2018 study by the University of Technology Sydney and Duke University.
Last year, Denmark became the first country to start working with supermarkets to introduce a climate labelling system on food products.
"We want to give consumers the means to assess in supermarkets the environmental impact of products," Denmark's minister for the environment, Lars Christian Lilleholt, told local press.