Government wants to up UK output – but workers remain lacking
Plans to revolutionise British food production were a core part of the government's response to Henry Dimbleby's National Food Strategy report this week, in addition to policies on obesity and health.
The government set out plans to boost self-sufficiency by developing more greenhouses, increasing procurement of British food, providing sustainability incentives, and addressing arguably the biggest challenge: labour shortages.
But what does it really mean for British farmers and growers? And will the plan effectively manage to boost UK production?
The NFU has welcomed the strategy, saying it "represents a clear milestone, with the government recognising the importance of domestic food production, maintaining our productive capacity and growing more food in this country, particularly at a time when the war in Ukraine has focused attention on the importance and fragility of our global food security". But few others are singing the strategy's praises.
The objections come down to the level of resource. The government aims to boost use of sustainable and efficient greenhouses by simplifying the planning permission process and by making use of surplus heat and CO2 from industrial processes. It could offer an opportunity to increase fruit & veg production year-round, as has been seen in vertical farming initiatives springing up across the country.
However, the question is who will pick the crops in these centres. The sector is rife with labour shortages and growers need "feet on the ground before they can even consider planting, let alone investing in new glasshouses and infrastructure", says Lee Stiles, secretary of the Lea Valley Growers Association. The group is currently experiencing a labour shortage of up to 40%.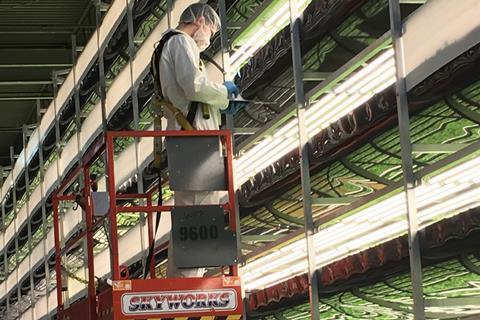 This problem is rampant across all areas of the industry, casting doubt over self-sufficiency goals. The Association of Independent Meat Suppliers says "many of our members are facing with the recruitment and retention of staff".
On this point, the government has promised it will "commission an independent review to tackle labour shortages in the supply chain".
Immigration strategy
The government has already expanded the Seasonal Worker scheme, which has reached a 30,000-worker threshold, to recruit an additional 10,000 staff. In its response to the NFS, it laid out plans to include the poultry sector, too.
But few are convinced this will be a silver bullet. British Poultry Council CEO Richard Griffiths says the inclusion of poultry is "very welcome" and expects it to particularly alleviate pressures around Christmas. However, he says it is "small fry" in the context of wider labour issues.
Ali Capper, executive chair of British Apples & Pears, argues that expanding market share of British-produced fruit will only be possible "with a fit-for-purpose immigration strategy".
Read more:
"It is now urgent that government act to implement appropriate policies before business confidence wanes any further, as this will lead to contraction of the sector rather than expansion," Capper says.
Overall, there is a sense the NFS simply hasn't gone deep enough to change the British food landscape. Griffiths argues "it does nothing to look at the consumption end of the system, where the biggest changes can be affected". As one of the stakeholders to feed into the NFS, he sees it as "such a shame… for chunks of it to be abandoned".
The Soil Association also sees the plans as "thin gruel" compared with Dimbleby's work. Although "fragments of policy offer hope" – such as the goal for half of public sector spend to go on food produced locally or to higher environment standards – it believes the plans don't go far enough.
At the same time, NFU president Minette Batters points out it's only a first step. "We need to see this strategy develop into clear delivery and investment to capitalise on the benefits food and farming delivers for the country, such as our world-leading standards of animal welfare, environmental protection and food safety," she says.
As Griffiths sums up: "At the moment, these are words, and we need action behind them."