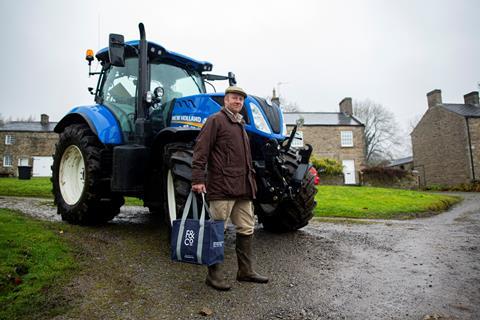 Online butcher Farmison & Co will deliver selected Christmas orders by tractor this year.
The Yorkshire-based business, which specialises in heritage breed meat, wild game and free-range poultry, said it hoped the 'Farm to Feast' initiative would remind consumers of "the importance of British farming".
Up to Friday 20 December, shoppers across the country can select 'delivery by tractor' at the checkout to be entered into the draw. Three customers will then be randomly selected to recieve their orders by tractor, with the rest being delivered by the company's usual courier service.
The New Holland tractor will be driven to the winners' homes by Stuart Raw, a smallholder and Farmison & Co supplier from the Yorkshire Dales.
"Our British breeds like the ones raised on Stuart's farm were bred to perfection in the 18th and 19th century, the same time the tractor was invented," said John Pallagi, MD and co-founder of Farmison & Co. "Ever since, it's been a symbol of British farming and is the perfect beacon to represent British farmers this Christmas.
"This year, eat better meat for Christmas and know exactly where your properly free-range turkey or grass-fed beef has come from."