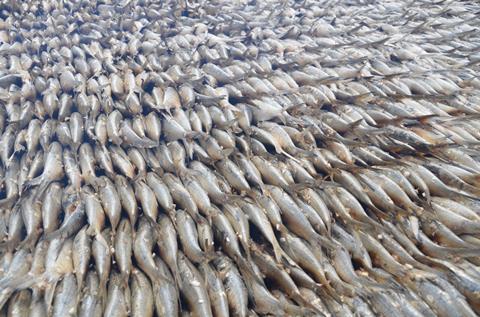 The mass production of fishmeal and fish oil (FMFO) for use in food supply chains is leading to the "destruction of wild fish stocks", according to a damning new report by the Changing Markets Foundation.

The foundation's 'Fishing for Catastrophe' report found that increasing demand for FMFO from markets such as China, as well as its use in the aquaculture sector, had compromised food security and destroyed "the social and economic fabric" of fishing communities in countries like the Gambia.

An increasingly volatile market for FMFO was also pushing up fish prices, which in turn was creating "incentives for overfishing in poorly regulated fishing regions", the report warned. It accused producers, processors and major UK retailers of complicity in unsustainable FMFO sourcing practices. The foundation has called for an end to the use of whole wild fish in FMFO.

Report supporter Hugh Fearnley-Whittingstall said it was "increasingly clear" even products certified as sustainable were "based on aquaculture that is sourcing fishmeal in deeply irresponsible ways".

A number of UK retailers are said to sell products implicated by the report. In response, the BRC said its members were committed to "producing and sourcing marine products responsibly".

"Retailers are dedicated to working closely with suppliers to ensure products meet customer expectations on sustainability," said BRC's sustainability policy advisor Leah Riley Brown.

Changing Markets' report was based on findings from investigations carried out in India, Vietnam and the Gambia.

In the latter, where "people rely on fish as a staple food," it was found that approximately 40% of the country's total reported catch in 2016 went to one FMFO plant.