Sunshine is lovely, isn't it? It's definitely wonderful for supermarkets. A spell of hot weather always results in a cash bonanza as the UK splashes out on burgers, buns and booze. In June, sun-baked shoppers sent half a billion more pounds ringing through tills than they did the year before, according to Kantar Worldpanel.
It's been glorious, but there is a problem. The sun just won't seem to stop. Last time the UK baked like this was during the summer of 1976. Temperatures that year averaged 32°C from mid-June to the end of August, leaving the UK parched and panicky. Even a lion fainted at Norwich zoo.

It was the worst drought for 300 years. An estimated £500m worth of crops failed and food prices increased by an average of 12%. And today, some 42 years later, there are fears history could repeat itself. Not least because this perilous situation isn't just down to the current heatwave. The sunshine has just exacerbated the effects of the freakish weather in March and April.

Right now it feels surreal, but in March the UK was blanketed by snow. Then in April it chucked it down. Both caused growers big problems long before the sun put its hat on. "That's very important to factor in," says Jack Ward, CEO of the British Growers Association. "It's exceptionally difficult at the moment because, and this is where things differ to 1976, a lot of things should have been planted in March but weren't.

"What was planted didn't grow because of the cold. Then it was a struggle to get things planted because it was so wet. Then it's just got hotter and hotter. They say this is a one-off, but there was a one-off of extreme cold, then a one-off of extreme wet, now there is a one-off of extreme heat. It's been a triple whammy this year already."

"It feels like seven weeks of no rain," says Rodger Hobson, chairman of British Carrots. "We were hoping for a thunderstorm last night but got less than 1mm. I've been growing carrots for 28 years and I haven't seen anything like it. And all the old boys who were around in 1976 tell me it's the same situation."

"It's not looking very happy at all," says Stephen Francis, MD of Fen Peas. "Our pea crops should have eight peas on them, but they have one. Across the board it's bloody dry out there."
Riverford Organic founder Guy Singh-Watson sends out little notes with his produce boxes, but his latest missive was more Dear John than Don Juan. 'Our agronomist's report makes grim reading,' he wrote in July. 'Carrots, cabbages, lettuce, chard, potatoes and leeks all are delayed or reduced in yield, with quality problems anticipated for what remains. The reasons are always 'delayed planting due to the wet spring' followed by 'lack of water'.'

Meanwhile in Ireland, the Irish Farmers' Association has reported farmers are "at financial and mental breaking point. This is an unprecedented spell with conditions surpassing the drought of 1976. Growers have gone to extraordinary lengths to maintain some level of supply. This commitment has entailed a financial burden which businesses just cannot absorb."

But this isn't dusty old '76. It's shiny 2018. Shouldn't thoroughly modern UK agriculture be able to deal with unseasonal weather?

"We are better equipped," says Ward. "We have better technology, there is more investment in reservoirs and irrigation equipment. Technologically we are 40 years on."

Adds Hobson: "People say 'you farmers always moan' but we are pretty good at growing carrots and we've never had them perform as badly as this. God knows how they are going to turn out, we are really worried. What do we do? I don't know, it's all new territory. Maybe we should have had a back-up plan, but when you've done your job quite successfully for 28 years and suddenly it goes like this, we don't really have one."

Francis planted his "first peas in 1981 and it hasn't really changed. The machinery is a lot more modern, we have to be very precise as the demand for quality is much higher. But the one thing we cannot guarantee is the weather. Everywhere we go people are irrigating crops. The other day people were watering the land just so they could plant vegetables, it's that dry. Something has got to give somewhere, you can hardly get a spade in the ground."
In 1976, in the last week of August, the government eventually intervened by appointing Denis Howell as its first 'minister for drought'. This time around, with the first hosepipe ban now in place after weeks of sunshine, could it react earlier and help out growers by granting them fewer restrictions on water use?

"Before the referendum they were more switched on," says Francis. "MPs used to talk about extraction rights and relaxations but I think they have bigger fish to fry right now because they don't know where to be with it."

Irrigation resources are "stretched to the hilt," says Hobson. "Our people are knackered working 24/7 moving irrigators around all the time. Even then we are only managing to irrigate about 70% of our crops and the water is running out and the Environment Agency is pulling licences because of low flows in rivers. And when the water runs out, the crop dies."

Which is what happened in 1976 (see box, below). "This really is a disaster," Albert Harrison, director of Lindon Frozen Foods, told The Grocer in August 1976. "All our yields are considerably down."

Whether the impact of this heatwave is worse than 1976 is impossible to quantify given it's only July. But, says 2018 could be every bit as bad, albeit for a different reason, believes Ward: "Our exposure is very much greater today. We were not growing with the same level of intensity 42 years ago. We hadn't got the consolidation and volumes we have now. The standards and expectations were completely different, the supply chain was completely different. So the pressures bear no relation to 1976."
How The Grocer covered the heatwave of 1976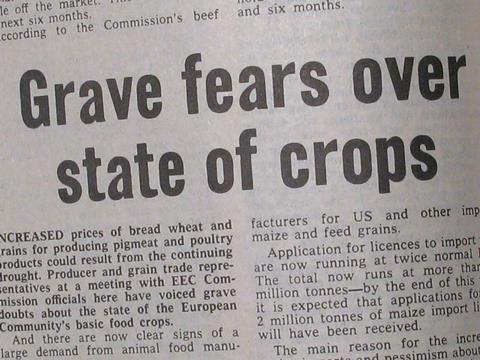 24 June: A hot spring in 1976 got things off to a difficult start. By June, The Grocer reported the weather was 'burning up pastures and spring-sown grain crops', though 'the continued dry weather may reduce the EEC's surplus food problem' and 'at this stage there is still a general feeling that it is still too early to make any assessment of crop loss'.
3 July: Pea processors are working 'flat out' to harvest fields 'before the weather takes a further toll'. Even so, growers are making gloomy predictions that yield will be down 20%.
3 July: 'Grave fears' are emerging over the state of crops. Warnings over increased prices of bread wheat and grain for pork and poultry production are issued.
10 July: The EEC Commission's plan to tax dairy farmers is shelved. Farmers are being 'badly hit' by the drought and any attempt to tax them will be 'unacceptable in these circumstances'.
24 July: The NFU says farmers are facing 'the consequences of the worst drought in living memory. Lack of rain is doing severe damage to sugar beet and potato crops. And it is already clear that autumn vegetables will be in short supply.'
31 July: Beans are in deep trouble. 'One major company anticipates a 70% crop failure in their runner beans harvest and 65% on broad beans'. Throughout the UK, bean crops are predicted to be down 50%. And the outlook on carrots is 'gloomy' with the early crop said to be of 'fairly good to poor quality'.
7 August: The UK is facing a potato famine as the 'severe drought has taken its toll' and even 'large quantities of rain are now unlikely to improve the situation'. Yields are expected to drop by a third. The price of a bag of crisps is predicted to rise.
14 August: British butter production will stop at the end of August. The Milk Marketing Board says parched pastures have had a 'dramatic effect on milk production' but hopes to resume production in October.
21 August: The heatwave is now dominating the news. The Grocer says minister for agriculture Fred Peart has made two of the 'most truthful political statements of the present administration' ("I am not a rain god" and "the drought will mean dearer food") and runs 16 stories on the drought, including one on Golden Wonder, which was paying a record high of £120 for a ton of potatoes in 1975, and is now paying £185.
28 August: The government was warned of the danger of water shortages five years ago, says the British Food Manufacturing Industries Research Association.
28 August: Because the heatwave has also hit Continental countries, importers are having to look further afield, including orange concentrate from Brazil. And even those prices are up 25% on 1975.
4 September: EEC farm ministers meet to discuss the effect of the drought on Europe's food supplies, the main concern being 'to ensure that housewives have adequate supplies of vegetables during the coming winter'.
4 September: Some more positive news as Carlsberg says lager sales are 'booming' thanks to the heat.
11 September: The Ministry of Agriculture reports the main potato crop is down 24%. The yield is 'only 7 tons 13 cwt per acre compared with a predicted 10 tons'.
18 September: Agriculture minister Fred Peart, described by The Grocer as 'avuncular and seldom considered the farmer's enemy' makes way for the 'reputedly more consumer-orientated John Silkin'.
And the crazy weather is "not just affecting what is in the ground but also future crops. There are a lot of brassicas that would go in the ground now that you would harvest in the winter, like Brussels sprouts, cabbages and spring greens. And those growers will be worried. So we are looking forwards as well as backwards."

The mention of Brussels sprouts will lead some to start freaking out about the future of the festive feast. Will Christmas turkeys be bereft of sprouts, carrots and roast potatoes this year?

Don't panic, says Hobson. "Those retailers are brilliant, they are very good at what they do. But Kevin the Carrot could have a French accent this year."

And December is still months away. But certainly in terms of the present, discussions over a relaxation of specifications will be "going on as we speak," says Ward.

"It depends where you are, what you've got, what the commodity is and where else it might be coming in from. We are suffering from the heat and it's the same on the Continent. So if you hear 'your specification isn't spot on' you can say 'Well you can't get it anywhere in Europe either, so what do you want to do about it?'"

In situations like these, will UK supermarkets stay loyal to domestic produce? "Generally the multiples will try and source from the UK if they can, providing the quality and price is right," says Ward. "It's generally easier and simpler to buy from the UK, but price and specification is always important."

And one UK grower warns that specifications have "already been relaxed a lot in recent years. A lot of fresh vegetables are not as nice as they used to be. I know everyone likes a few more wonky ones but I think it would be worrying to relax specifications any more. I was in Sainsbury's the other day and some of the vegetables didn't look very nice and I didn't see anyone picking them up." The supermarkets "aren't going to say they will be selling less quality for higher prices," he adds. "But if we have 30% less crop to sell and we are hoping to cover our costs, without a material price hike then we are all bust. It's simple maths."

Francis is confident "we can continue to deliver to the retailer specification but we can't increase the volume. We had a field of broccoli the other day ready to cut and there was a head smaller than a 50p piece. We haven't seen it like this before in agriculture. In previous years a shortfall has been made up by other countries, but they are experiencing the same as we are."

So what do the supermarkets think? Will they be forced into offering lower quality for higher prices?

Asda says it's "continually working with growers to flex their specifications to make sure as much great produce as possible is available. Most recently, we relaxed our specifications on berries and lettuces and are working with other growers on any issues or shortages."

Aldi says it is "in close contact with growers and will consider amending specifications to support them". It also says "our British growers will still be paid fairly and in accordance with our agreements". And it remains "committed to offering the lowest prices".

Morrisons say they "speak to farmers all the time" and if crops aren't ripening as expected "have the option either of relaxing specifications or including it in our Wonky range." Already spec has been relaxed on lettuce, cucumbers, celery, herbs and peppers.
Riverford says it is "likely we will need to be more flexible on spec where eating quality is not significantly impaired. It is often better to harvest a struggling lettuce, cabbage or head of broccoli at a lower weight, than leave it another week to limp on, gaining a few grams but becoming yellow, tough and bitter with dehydration."

So what happens if the heatwave continues? According to the Met Office it will persist throughout August, making it the longest heatwave since 1976, though there is talk of a greater chance of rain in the north. That said, British weather is infamously unpredictable. And it's "changing on a weekly basis," says Hobson. "I was talking to a potato buyer this week and I said 'how serious is it?' And he said 'it's in the balance'. But I do think the next 11 months are going to be unlike anything we have ever seen before."