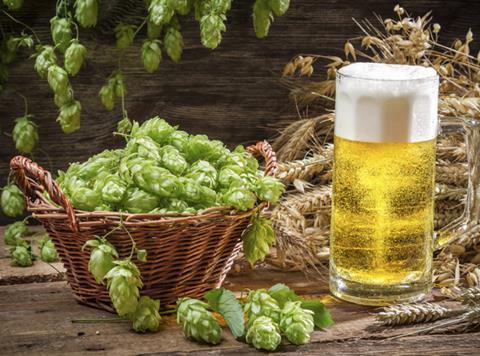 There's trouble brewing in the world of beer. Suppliers are facing a shortage of some of the very hops that are helping to drive the craft beer boom.
The hops in short supply are fashionable strongly aromatic varieties, grown in Oregon and Washington State, and favoured by trendy craft breweries for their IPAs. It's a West Coast hip hop shortage, if you will.
Edinburgh's Top Out Brewery says it has been unable to obtain the Simcoe hops needed to brew its popular beer The Cone, and has been forced to cease production until more became available. I haven't sampled it, but Youtube beer blogger Simon Martin reckons it was the best Scottish IPA he had tried. Better keep quiet about that around the BrewDog lads, Simon!
The problem Top Out is facing will be of little surprise to brewing industry insiders. The threat of a shortage of certain hops, especially aromatic US varieties such as Simcoe, was first reported last year, and is a direct result of booming production of craft beer, which typically uses five to 10 times more hops than mass-produced lager.
And the problem is likely to get worse before it gets better if the UK follows trends seen in the US, where craft accounted for 11% of beer volume sold in the US last year, up 17.6% year on year [Brewers Association]. In the UK, where (unlike the US) we don't have a formal definition of craft beer, it is harder to put a figure on the size of the market – but all experiential evidence suggests our thirst for hoptastic beers, made with the likes of Simcoe, is growing.
Simcoe is among aromatic varieties only grown in America. These types often have low yield and are consequently grown in limited quantities. Growers will respond to demand, suggests Ali Capper of the British Hop Association, but she warns brewers must contract their hops to make sure they get what they need. So the issue is not necessarily a permanent shortage, but a lag in meeting demand as long as these styles are in growth.
Luckily, Top Out has a trick up its sleeve – it will be replacing The Cone in its repertoire with another IPA, South Face, which instead uses hops from New Zealand. It's a strategy that London's Brew By Numbers (BBN) has been using since its foundation. BBN has a roster of more than 80 beers, grouped under 18 styles, which are produced in irregular rotation. They include 13 golden ales, 10 strong IPAs, and 11 session IPAs. As a result, BBN never finds itself in trouble if it can't source a particular hop – it produces one of its other recipes instead.
I asked BBN's Dave Seymour if hop shortages had been a factor in designing the company's production model. He told me that that while he and co-founder Tom Hutchings had first and foremost been motivated by wanting to try their hands at lots of beers, they were conscious of the benefits of not becoming over-reliant on a single raw material.
Either way, BBN's system is win-win: it avoids having to pull a product in times of hop shortages, while also pushing a stream of constant innovation. As long as we have millions of consumers waking up to the diversity of beer, this approach can only be good for the industry.
And let's face it – there are one or two other categories that could do with the sort of pressure to innovate that comes from a drought of your product's main ingredient.