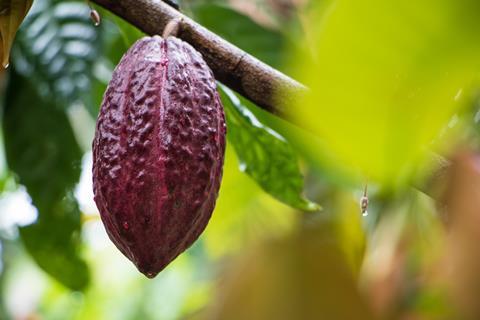 Cocoa in the chocolate of Sainsbury's, Tesco and Waitrose, as well as brands like Cadbury, comes from Ivory Coast, the world's leading cocoa producer. It is grown there exclusively by smallholders – though brands tend to buy their beans from traders, further down the supply chain. With that in mind it's concerning that an increasing amount of this cocoa is being grown at the expense of Ivorian forests and the wealth of biodiversity found within them.
With cocoa farmers from neighbouring countries looking for fertile land on which to plant, some encroach on Ivorian forests to do so. In 2017, Mighty Earth estimated that 35% of the country's production was grown on protected areas. According to Forest 500, if this rate of deforestation continues, the country could lose all of its forest by 2034. This would mean no cocoa, as it is the forest that creates the right conditions and soil fertility in which most cocoa crops can thrive.
Not that all is lost. We are working with the Ivorian forestry agency to demonstrate there is a way to protect these forests that doesn't come at the expense of cocoa farmers' livelihoods. The challenge lies in how cocoa is grown, whereby it is first planted within the forest; it is only when the crop has established itself within the shade of trees and needs more sunlight that forests are cut and burned.
So conserving forests requires knowing when cocoa has first been planted. No small task for the forestry agency, which does not have the resources to patrol the entirety of the country's forest on foot. Satellite monitoring is one solution, but normal imagery would merely show the land cover as a healthy standing forest. There hasn't been anything capable of detecting small disturbances, or cacao planted underneath the canopy, until now.
In collaboration with Airbus we have developed Starling – satellite technology able to identify small changes that occur beneath the forest canopy. We have used it in Cavally Forest, one of Ivory Coast's most biodiverse areas, to develop an accurate base map, detecting forest that is intact, degraded (as a result of farmer encroachment), or established with cocoa. This, combined with ongoing monitoring, is supporting the forest management agency to focus patrol efforts in specific areas of Cavally Forest, discouraging farmers from further encroachment. As a result there was a 60% drop in the deforestation rate from April to July of 2018. Starling results show that 58% of the original forest reserve is still intact forest that can and should be protected.
This could be scaled up throughout the country and to other commodities too, increasing the chances of maintaining healthy, standing forests. If Ivory Coast's remaining forests are to be protected it is essential stakeholders have accurate and timely information to take action if illegal planting is taking place. Starling offers that. But this enhanced monitoring is not purely about compliance, or banishing cocoa farmers who have planted in protected forests. Kicking illegal farmers out of supply chains without measures to support them would severely risk the country's status as the leading cocoa producer. At present, cocoa is worth $5bn in exports to the Ivorian economy.
Directing future farmers to establish cocoa and other crops outside current forest areas, while also providing support to optimise their yields – but not at the expense of the environment – is vital to the future of a healthy and sustainable cocoa industry. Striking such a balance is possible, but it will require a concerted and sustained effort from multiple stakeholders including the Ivorian government and, just as crucially, chocolate manufacturers, if it is to come to fruition.