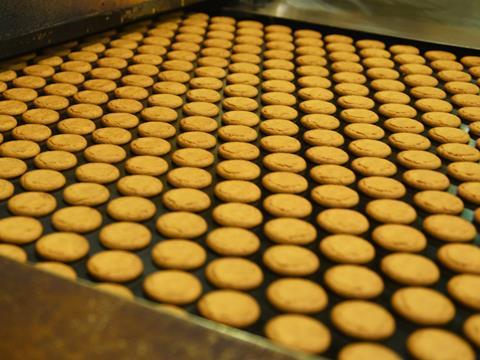 Half a dozen farmers recently took a guided tour of our factory in Carlisle.
Their visit was an incredibly proud moment for all concerned, not only because these famers were there to see the wheat that they had grown and harvested being used to make some of the UK's most popular biscuits (including McVitie's Ginger Nuts and Custard Creams if you're wondering), but because their visit was the coming of age for a special initiative that we call 'Back to Farm'.
The pride that all of us at Pladis felt came from the knowledge that our guests were now among more than 200 farmers in the UK – predominantly in the north and south east – who supply us directly with an increasing proportion of the wheat we need to make our biscuits.
'So what?', you may ask. After all, it's hardly a shocking revelation that British farmers supply the UK's biggest biscuit maker with wheat. Indeed, in addition to the wheat we receive under our Back to Farm scheme, all the other wheat we purchase comes to us indirectly from other British sources.
But the truth is that when we first launched our scheme five years ago to secure wheat supplies directly from growers and farmers' co-operatives, just 5.5% of the wheat grown in the UK was Group 3 biscuit wheat – compared with 55% 15 years ago – as more profitable crops came in and out of fashion.
As we worked hard to turn the tide, and pondered how to persuade more farmers to return to biscuit wheat, we soon realised that our solution had to be about more than just a financial benefit. So here are a few of the key learnings that we discovered along the way.
Firstly, we learned that if Back to Farm was going to work then we needed to evolve the relationship between Pladis UK&I and the farmers who supplied us. Forming real and close relationships with our growers and bringing them together with our bakers to celebrate the completion of the production loop has been one powerful way of us doing that, but certainly not the starting point.
Long before any wheat was physically grown, we set about winning growers' hearts and minds about what was possible in the long term by holding numerous group meetings and seminars with famers and farming co-operatives in open forums. This allowed us to explain our goals and vision, and to understand their reservations, creating relationships that began to be built on trust and which gave us valuable insights about their hesitations and the perceived barriers to entry.
Part of those discussions naturally revolved around price, but what we really learned was that introducing two-year rolling agreements would give our growers the peace of mind they needed to commit to our scheme, allowing for the 15-month crop cycle that starts at buying the initial seed and that culminates with the final harvest.
Now that these close relationships have been firmly cemented and nurtured, backed by the financial security required to ensure the long-term success of Back to Farm, we've also started work on establishing sustainable farming groups together with our wider stakeholders. For example, we're asking ourselves how Pladis, farmers and millers can work collaboratively to enhance biodiversity and reduce our environmental footprint even further, whilst broadening the support for the wider farming communities that now fall within our fast-growing supply chain.
In short, if you want to introduce a credible and successful growing scheme then you need to look far beyond the commercials, and we believe that's something that has to be worth celebrating.
Richard Plant is agriculture & ingredients lead at Pladis UK & Ireland