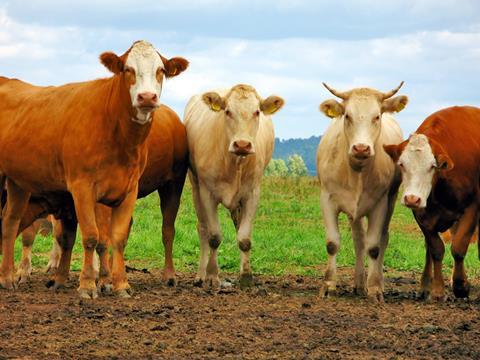 Brazilian meat giant JBS has defended its sourcing standards after claims its beef has links to slave labour.

An investigation by The Guardian and Repórter Brasil claimed JBS had purchased cattle from a Brazilian farm accused of modern slavery.

Prosecutors said federal police discovered workers living in inhumane conditions with no shelter, toilets or drinking water, after a series of raids in June 2016.

However, JBS, which owns UK supplier Moy Park, said it stopped buying cattle from the farm as soon as it had heard about the allegations.

"As soon as JBS became aware of irregularities in the … farm's operations in 2016, all livestock purchases from the Junqueira family were immediately stopped," said a spokesman for JBS Brazil.

"JBS does not buy cattle from any farms which have any association with slave labour, as listed by the Brazilian government, and updates all of the information contained in … the ministry of labour 'black list' of slave labour on a daily basis."

JBS reportedly paid £2m for cattle reared on the farm in the northern state of Pará from 2013 to 2016, according to official documents seen by The Guardian.

After being made aware of the newspaper's investigation, Waitrose pulled its lines of own-label Brazilian corned beef, supplied by JBS, while it investigated the situation.
"While we have found no such concerns in our own supply chain (and have recent audits, including April 2017), we are taking these allegations seriously so have stopped sourcing any of our corned beef from there while we investigate fully.," Waitrose said in a statement.
JBS also supplies tinned corned beef to Lidl, Co-op, M&S, Sainsbury's and Princes, the report said. Lidl and Co-op said they had launched investigations into the supply chain, while Sainsbury's and Princes said they conducted business in line with ethical and global standards.

It comes as the Ulster Farmers' Union called for Brazilian meat imports to be banned from the EU completely in the wake of corruption scandals in the country.
JBS was fined £2.4bn for its role in the scandals last month, following a two-year investigation into alleged fraud and corruption in the Brazilian meat industry which had links to the country's political elite. The wider Brazilian meat sector was also hit by scandal in March over claims a number of componies, including JBS and poultry giant BRF, had been selling rotten beef and poultry for several years.
Export ban

"The situation in Brazil continues to deteriorate as more reports emerge about the huge level of corruption in their meat industry and government," said theUFU president Barclay Bell.

"The magnitude of this scandal is shocking and I can see no credible way for the EU Commission to continue to include agriculture in the Mercosur trade talks. The Commission must also take action by immediately banning all Brazilian meat imports to the EU," he added.
"The Brazilian meat scandal is a public health issue. The Commission has been slow to act and I would question why they have not approached this situation with the same urgency as BSE [which led to a swift ban of all UK beef exports in 1996]. It is unacceptable and immediate action must be taken."