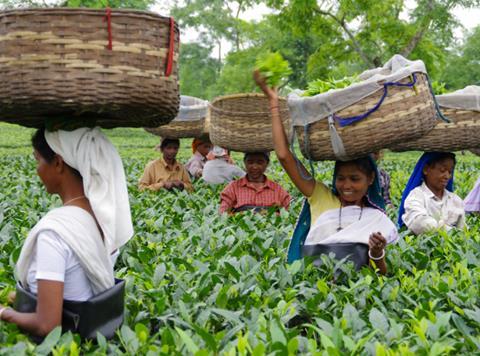 Twinings, Unilever and Taylor's of Harrogate are among big-name suppliers backing the latest industry initiative to improve the lives of tea workers in India.
The Ethical Tea Partnership today kicked off its Women, Children and Families in Assam Commitment in partnership with UNICEF, covering 200 estates – about a quarter of those in the Indian state.
The nine goals of the three-year programme include improving access for workers and their families to healthcare, nutritional food, education, childcare and sanitation. It also aims to protect children and women from violence, exploitation and child marriage.
The initiative's ambitions are based on international human rights and labour rights frameworks. They build on a child-rights impact assessment carried out during the previous ETP/UNICEF partnership, which began in 2014. It covered 104 estates and improved the lives of around 35,000 girls and women.
The new, expanded initiative – also backed by the Indian Tea Producers Association – would have "a really deep impact on the lives of women, children and families" ETP executive director Sarah Roberts told The Grocer. It hoped to "inspire a whole range of other companies to get behind the objectives and contribute to them".
The involvement of UNICEF would ensure engagement not just with communities in Assam but also with India's government in areas such as education and law enforcement, she added.
While the ETP and its partners were "dealing with long-term, big problems" Roberts was "very optimistic" of seeing significant progress.
One of the ETP's founding partners Taylor's of Harrogate wants business "grounded on improving lives of people right through our supply chain" said the brand's MD, Andy Brown. Suppliers across the tea category had "a collective responsibility to improve the lives and livelihoods of people at source".
Behavioural change would "cascade across tea estates" in sustainable fashion, he added. "That's the power of this programme."
This week, Taylor's of Harrogate published details online of its tea suppliers in a move towards greater transparency in the supply chain. "It helps breed trust, ensures accountability and shows we have nothing to hide," Brown told The Grocer.
Other signatories to the ETP/UNICEF commitment include Twinings, Starbucks, Tesco, Tata Global Beverages and Unilever.
Twinings said it was "committed to empowering women and youth through health and education, which is why we have worked in partnership with UNICEF in Assam since 2010 and have already reached more than 34,000 direct and indirect beneficiaries, through nutrition, empowerment and protection interventions".
In May, leading tea brands defended their ethical sourcing credentials after a report from international development charity Traidcraft Exchange highlighted the "appalling conditions" and "pitifully low wages" of workers on Assam tea estates.