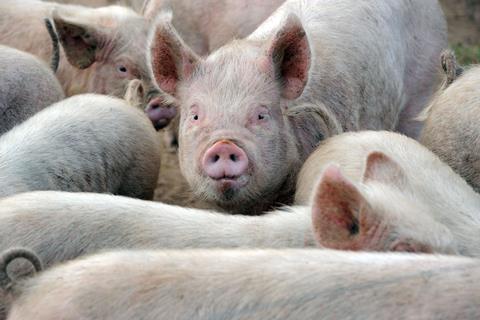 Major food processors Danish Crown, Hilton Food Group, Nestlé and Premier Foods have improved their approaches to animal welfare, according to the latest report by The Business Benchmark on Farm Animal Welfare.
All four companies moved into the report's Tier 2 category, which judges animal welfare to be 'integral to business strategy' within their operations – Danish Crown had dropped a tier in last year's report.
Meanwhile, Unilever dropped from the second to the third tier, with both Cranswick and Noble Foods remaining in the top 'Leadership' tier.
There was no change among the big four: Sainsbury's, Tesco and Morrisons all stayed in the second tier with Asda in the fourth tier. Both Waitrose and M&S remained in the top tier.
"In 2019, the rise in consumer and investor interest, coupled with increasing pressure on suppliers from food companies, signals a perfect storm for moving the dial on farm animal welfare," said Nicky Amos, executive director of the BBFAW.
"Companies that fail to take responsibility for ensuring the welfare of animals farmed for food can expect heightened scrutiny from their business customers and partners, from investors, and from consumers."
Improvements in scores were mostly pushed up by improved leadership and management practices – for example, 59% of the 150 global companies covered by the Benchmark now have explicit board or senior management oversight of animal welfare (compared with 43% in 2018).
The report found consumer interest in animal welfare was the biggest driver for improving welfare, with 79% of the 150 global companies surveyed reporting it was their main motivation. Furthermore, 82% identified animal welfare as an investment risk.
Overall, UK-headquartered companies outperformed those from other countries, with an average score of 64%. Other European countries scored an average of 40%, while the average score for all 150 food businesses in the report was 34% – up 2% on 2018.
The annual BBFAW study is a collaboration between Compassion in World Farming and World Animal Protection, with the ranking compiled from a survey of retailers, manufacturers and restaurants from around the world.
It analyses the farm animal welfare policies, management systems, reporting and performance of the world's largest food companies.
The report's release comes at a time when British food producers have intensively lobbied government to not compromise on food standards in post-Brexit trade deals.
Before the coronavirus pandemic hit the UK, Defra secretary George Eustice called on farmers and growers not to be "spooked" by competition from overseas, after refusing to rule out importing chlorinated chicken into the UK as part of a future US trade deal.
Eustice's comments came despite widespread criticism of the government's approach to post-Brexit animal welfare, with NFU president Minette Batters describing the potential acceptance of food imports from countries with lower standards as "the work of the insane".