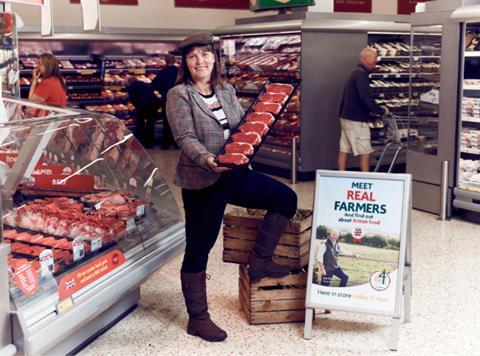 Morrisons is taking on rivals Tesco and Asda with a pledge not to sell so-called 'fake farm' brands.

The move forms part of a push today by the supermarket to promote British produce, during which it will host hundreds of farmers in its stores across the UK.

Morrisons said 'fake farm' brands could "give an impression that food comes from a British farm, market or town when it may in fact be imported from overseas". It stopped selling a meat brand called Hemsley - a play on the name of North Yorkshire farming town Helmsley - last year.
"Real farmers have an important role to play in explaining to customers how important real British food is, and how customers can tell whether food is from the UK or not," said Joe Mannion, head of British livestock at Morrisons.

The retailer highlighted a poll of 1,000 adults that revealed some 70% objected to the use of 'fake farm' brands and only wanted real farm names or place names to be used on packaging and branding.

"Supermarket customers are sometimes presented with misleading images of farmers on their food and we believe that by meeting our real farmers, customers will see and value that we know where our food comes from," Mannion added.

It follows a commitment last month by Morrisons to only sell fresh meat produced from British farms, while the retailer is also recruiting more than 200 local suppliers from across the UK as part of its Nation's Local Foodmakers initiative.

NFU deputy president Minette Batters welcomed Morrisons' commitment.

"In our view it is important that product names and descriptions on packaging are clear, accurate and do not mislead consumers," she said. "We would always encourage shoppers to look out for the Red Tractor logo to ensure the food is produced to the highest welfare standards, and can be traced back to a British farm."

The NFU lodged a formal complaint to National Trading Standards last year about the risk of 'fake farm' brands misleading shoppers in supermarkets.

At the time Aldi, Lidl, Tesco all insisted that their brands met legal requirements. Asda launched a budget range of fresh meat and fruit under its revived Farm Stores brand in April this year. Tesco developed a line of 'farm'-based fresh produce to replace their Everyday Value products range in March 2016 which it said has delivered strong sales.