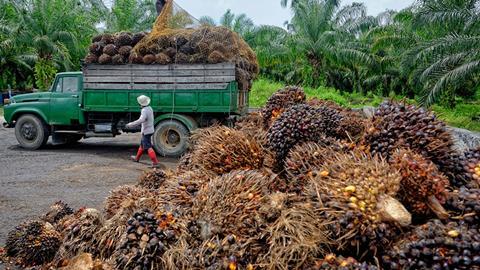 Morrisons has reported a 70% increase in its palm oil use over the past year, according to new data from the Roundtable on Sustainable Palm Oil (RSPO).
The supermarket's own label products contained over 13,000 tonnes in 2019, up from 7,776 tonnes reported the previous year. Almost all was responsibly certified by the RSPO.
Morrisons insisted its palm oil volumes had not grown, attributing the jump to changes in its reporting process that brought in additional derivatives and fractions into scope.
In its annual report to the RSPO, the retailer said it was "consulting on a revision to our palm oil policy to bring the document in line with our policy on global deforestation".
Palm oil is found in around half of all supermarket products but has been linked to widespread deforestation, particularly in Indonesia and Malaysia.
The UK's biggest supermarkets and food manufacturers including Morrisons, Tesco and Sainsbury's wrote to Defra secretary George Eustice last week urging the government to go further on rules to ban the sale of products linked to illegal deforestation.
The government has introduced proposals to make it illegal for businesses to use agrifood commodities produced on illegally deforested land, but the companies said the law must apply to all deforestation, not just where it is defined as illegal in individual countries.
Tesco's palm oil usage fell by 12% in 2019 to 52,000 tonnes, according to its RSPO report, driven by enhanced reporting by its Asian suppliers. The supermarket said its UK palm oil footprint had remained stable.
It follows a 50% jump between 2017 and 2018 after Tesco conducted a review of its palm oil use to include all international businesses in its reporting.
Sainsbury's similarly reduced its usage by 17% in 2019 to 12,300 tonnes following investment in data tools to provide a "more detailed picture of our palm oil sourcing", said a Sainsbury's spokeswoman.
Emily Armistead, senior forests campaigner for Greenpeace UK, said: "Cutting palm oil usage may be one way to clean up, as Sainsbury's and Tesco appear to have done, but only if they work towards full transparency over their remaining supply and ensure that fats substituted don't shift environmental damage elsewhere."