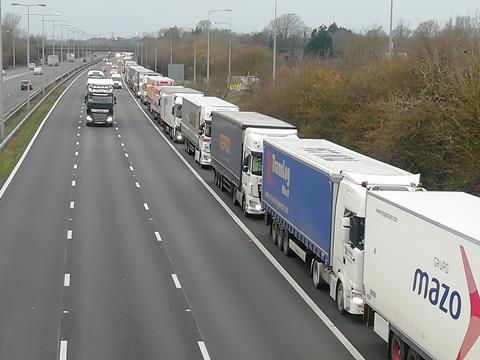 The Commons Environment, Food and Rural Affairs Committee has launched an inquiry into Great Britain's border controls on imports of food from the EU.
Interested parties have been given until 17 February to submit their views and ideas about the new border system ahead of a public evidence session to be held on 1 March.
The inquiry comes less than a month since new post-Brexit controls starting on 1 January, and despite physical checks on goods not being scheduled until July.
Efra said it was "concerned" that "full checks" on imports by Great Britain from the EU had not been put in place "despite the EU having implemented checks on British exports immediately after 'Brexit' began on 1 January 2021".
While British food exports to the EU declined drastically last year, EU exports the other way were not as badly hit.
Warning of a "discrepancy", the Committee said current arrangements "could give a competitive advantage to EU exporters, compromise biosecuity and weaken the UK's position when it came to ongoing talks with the EU".
Ireland, which last year was the UK's third-biggest source of food imports from the EU after the Netherlands and France, was given a temporary exemption from the system, while the UK and EU wrangle over the status of Northern Ireland, which under the terms of Brexit has been treated as effectively retaining its EU membership for trade purposes.
While the UK last week warned it wanted to renegotiate aspects of Brexit that relate to Northern Ireland, recent days have seen the threat of a Russia-Ukraine war take precedence, with the UK and EU on Monday issuing a joint statement about a "shared desire for a positive EU-UK relationship underpinned by our shared belief in freedom and democracy and co-operation on common global challenges".
It comes as HMRC this month wrote to thousands of hauliers across Europe, advising them to familiarise themselves with new requirements for goods vehicles entering Britain, while freight operators separately warned of a rise in "complexity" for traders since the start of the year.
While fears of major new delays to imports into Britain from the EU have not yet been realised, in part due to the usual slow post-Christmas trading as well as late-year stockpiling in Britain ahead of the 1 January imposition of controls, longer delays are more likely later in the year when British officials start physically checking imports from the EU.
The Committee's MPs said they wanted to know "how prepared are British food and farming sector businesses, border posts and the government for the introduction of further checks from 1 July 2022? What will be the impact of these extra checks?"
The announcement follows concern arrangements around exports from the UK are also coming under pressure. Late last week saw long queues of trucks on roads into Dover ahead of crossing to France, while the weekend before saw some dairy exporters struggle with revised paperwork for exporting to the EU.
Port of Dover CEO Doug Bannister told the BBC on Sunday that the latest queues were of "just a few hours" duration but warned revised check could lead to a rise in transaction times for lorries entering the port.