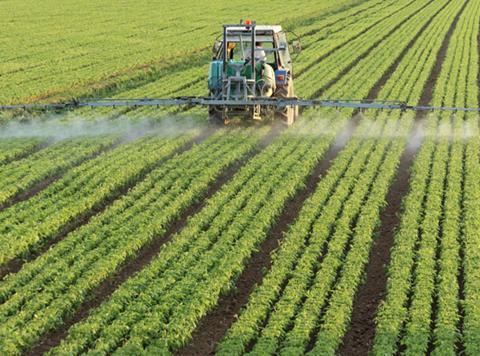 Parliament's Environment, Food and Rural Affairs Committee has called on the government to address the UK's rising fertiliser costs and possible shortages of CO2, after the recent shutdown by CF Fertilisers of one of its two factories.
In a letter to environment secretary George Eustice this week, Efra chair Robert Goodwill warned the closure of the CF plant in Cheshire meant "farmers are likely to continue to face high input costs which may contribute to rising food prices", while industries in the food supply chain could be faced with "an inadequate supply of CO2".
Goodwill wrote that he hoped for a response by 7 July from Defra about what assurances it had been given about domestic supplies of CO2 and fertiliser, and about how those supplies were to be developed under the government's recently published and widely criticised food strategy.
"Farmers have already seen significant price rises due to the impact of gas prices and the war in Ukraine," he said, referencing AHDB data showing a 152% yearly increase in the price of UK-made ammonium nitrate fertiliser by May.
Goodwill implied the situation for the CO2 market was even more precarious as, unlike natural gas, it would be "impractical" to import substantial amounts of CO2. He added the gas was "critical to food supply chains, in areas such as "the packaging and transport of food to extend its shelf life; the promotion of plant growth; and to stun animals ahead of slaughter".
Citing "food security and animal welfare reasons", Goodwill's fellow committee member Neil Hudson said "we need government to make sure we are resilient in this area", The NFU recently said the fertiliser price rise could lead to falling crop output in the UK.
CF's production facilities at Ince in Cheshire and Billingham near Durham were taken offline last September due to rising natural gas costs, and though the latter factory was ultimately reopened and kept open following a series of government-brokered deals, the Ince plant has remained closed.
Asked about Goodwill's missive, a Defra spokeswoman said "we know that farmers are facing rising input costs, including manufactured fertiliser, feed and fuel as agricultural commodities are closely correlated to global gas prices".
"We have set out a package of measures to help farmers with the availability of fertiliser. While those measures are not the whole solution, they will help", the spokeswoman added.
According to Defra, UK reliance on CF-sourced CO2 had now fallen from around 80% last year to just over 40%.
Export restrictions imposed last year by China and later by Russia, two of the world's biggest producers, have tightened markets for fertiliser and components derived from natural gas.
Other producers had announced pauses to their operations in recent months. Borealis temporarily ceased production in September last year before Yara did likewise at its factories in France and Italy in March, shortly after the invasion of Ukraine by Russia.
The surge in fertiliser prices has shown little sign of abating and could worsen if Russia – which in recent days cut natural gas supplies to Germany by 60% – halts exports to Europe in retaliation for sanctions imposed in response to the invasion, a scenario that has prompted warnings of rationing across the continent later in the year.