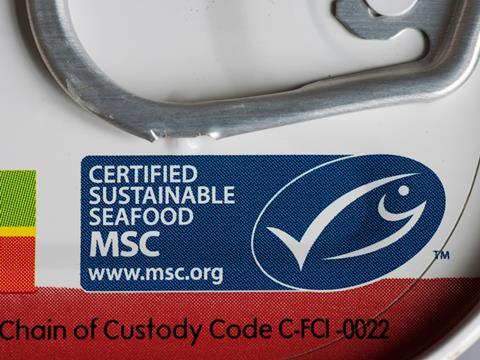 The Marine Stewardship Council's handling of a number of critical issues around how fisheries are certified could ultimately harm consumer confidence in it, according to a new study by pressure group Make Stewardship Count.

The MSC faced significant challenges to its credibility on issues such as the bycatch of endangered and threatened species, the deliberate encirclement of dolphins and habitat destruction, the group warned.

Make Stewardship Count, made up of a coalition of environmental NGOs and scientists, polled 5,574 adults in France, Germany, Switzerland and the UK last month. It found that 78% of consumers would stop buying MSC products altogether or buy fewer products upon learning some fisheries were involved in such eco-unfriendly practices.

Some 80% of respondents said MSC fisheries should not be allowed to deliberately encircle dolphins or other marine species while fishing for tuna. Similar results were found for the use of FADs leading to shark kills and bycatch of endangered or threatened species.

Opposition to shark finning and the use of destructive fishing techniques also scored exceptionally high, with more than 85% of respondents saying these practices should be banned. Meanwhile, some 77% of consumers thought MSC-certified fisheries should independently verify and document all their bycatch and provide data to other environmental NGOs and scientists.

It comes as the MSC faces mounting pressure from environmental NGOs over how it manages its certification scheme.

It agreed to toughen rules over the compartmentalisation of fisheries (where crews can catch certified and non-certified fish on the same trip) in January. Meanwhile, the Commons Environmental Audit Committee last week announced plans to probe how effective the certification scheme was as part of a wider inquiry into the future of the world's oceans.
Alarm bells
"These results should set alarm bells ringing for the MSC," said Susan Millward, marine animal program director for the Animal Welfare Institute. "Without swift and comprehensive improvement in its standards, the MSC stands to lose significant public confidence in key European markets."

"This as a strong and clear message to the MSC that must be listened to," added Sigrid Lüber, president of Swiss NGO Oceancare.

Ulrich Karlowski, a biologist and co-founder of the German Foundation for Marine Conservation, warned the MSC "does not live up to consumers' expectations. It is high time it stops making empty promises".

But in a robust response to the survey, the MSC said it "rejects the notion that we are not meeting consumers expectations".

In a statement, it said: "Globescan research in 2016 of 21,827 consumers found that 69% who had seen the MSC's ecolabel said they trusted it. In Germany specifically, that figure was 70%. Recent opinion survey has shown that our trust level in Germany has been maintained. Consumer confidence in our programme remains high and is robust.

"We welcome the fact the opinion survey shows clear public support for banning shark finning. The MSC prohibited shark finning in our certified fisheries in 2011.

"Our conformity assessment bodies (CABs) are independent. Our rules have tasked an independent body, the ASI, with ensuring that our CABs demonstrate robust systems in place to address conflicts of interest in their work."