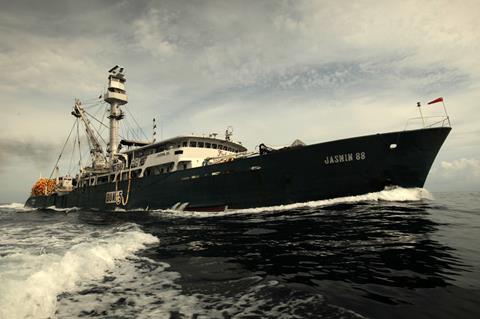 The recertification of an MSC-certified fishery in the Pacific has been delayed amid claims there is still "vast amounts" of unsustainable fishing in the area.
The NGO said the recertification decision for the Parties to the Nauru Agreement (PNA) fishery had been paused for up to six months, pending an independent review following an objection by the International Pole & Line Foundation.
Recertification was expected to be completed this autumn. The NGO stressed the fishery remained MSC certified in the meantime.
Much of the tuna caught in the PNA fishery makes its way to UK supermarkets in the form of MSC-certified Princes tuna supplied by the PNA's Pacifical organisation.
However, the fishery, the MSC and proposals to recertify it as 'sustainable' have faced criticism from campaign group On the Hook since the start of September.
On the Hook claimed fishing vessels in the area were catching some tuna to sustainable MSC standards, but on the same voyage "hauling turtles, sharks, juvenile tuna and other protected species unsustainably."
On the Hook also alleged the MSC stood to gain an estimated £10m windfall from the fishery's recertification.
In response, the MSC rejected On the Hook's allegation and disputed the £10m figure, and told The Grocer the recertification decision had been delayed while an independent adjudicator considered the International Pole & Line Foundation's objection.
It added certification was undertaken through an independent third party, and not the MSC, but stressed it welcomed constructive criticism, "which can be used as a platform for strengthening the programme", according to MSC UK programme director Toby Middleton.
However, On the Hook claimed the pause in recertification was "another MSC smokescreen", and urged the NGO to immediately scrap certification.
"The MSC must prevent compartmentalised fisheries, such as the PNA - where purse seine vessels haul up turtles, sharks and other protected species unsustainably on the same trips as those engaged in catching sustainable tuna - from being certified," a spokesman said.
"On the Hook is very clear that there should be no more fish caught in the PNA and then sold with an MSC logo. The certification of compartmentalised fisheries must be stopped now whilst a comprehensive review of the MSC standard takes place. This will ensure that both supermarkets and consumers can trust that the MSC logo means only one thing; a sustainable product, from a wholly sustainable fishery."
This article was amended on 25 October to make it clear that MSC certification is not carried out by the MSC itself but through an independent third-party auditor.