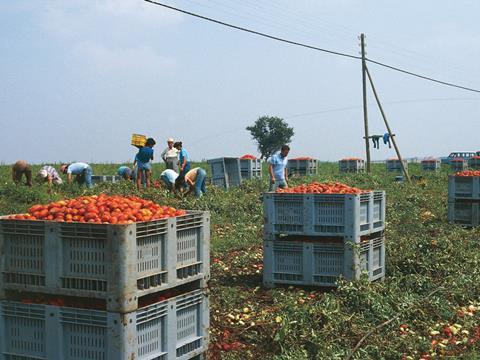 Canned tomato giants Mutti and Conserve Italia have moved to reassure UK customers and launched reviews into their sourcing practices after being named in a report linking them to alleged labour abuses.
The Guardian implicated the pair in a report last week, which claimed they had taken supplies of tomatoes from De Rubertis Rita, a grower in Puglia, southern Italy, linked to a catalogue of alleged labour abuses - which ultimately led to the death of a seasonal labourer while harvesting tomatoes in July 2015.

While noting the two Italian food giants were not directly liable for the abuses, The Guardian report cited court documents filed by prosecutor Paola Guglielmi that named the companies as benefiting from "conditions of absolute exploitation".

In response, Mutti and Conserve Italia, the owner of Cirio, this week insisted they were committed to the ethical treatment of labourers and had immediately cut ties with the tomato supplier implicated in the investigation as soon as they had been made aware of the labourer's death.
Both suppliers also told The Grocer they were now undertaking internal reviews into how they source from third parties.
"As soon as the suspected irregularities emerged, we suspended the supplier," said Mutti in a statement. "We were absolutely not aware of any kind of irregularity, and today we are still waiting for information from the legal authorities."

Meanwhile, the tomatoes supplied by De Rubertis Rita through intermediary company Pomoidea to Conserve Italia represented just 0.001% of the 350,000 tonnes processed each year by business, one of Italy's largest farmer co-ops, said the MD of its UK division, Diego Pariotti, who insisted the business was at "the forefront of pushing for greater workers' rights and conditions".

The Guardian had sensationalised the story to implicate Conserve Italia using no more than a "tenuous link", he claimed.

The purchasing contract signed between Conserve Italia and Pomoidea also demanded it complied with all employment laws and welfare regulations, including assistance for immigrant workers, Pariotti added, while De Rubertis Rita had also signed a declaration guaranteeing to respect all fundamental principles of social responsibility.

"It is also important to state that Conserve Italia does not have the power of random inspections with these companies outside of the co-operative," Pariotti said. "Random inspections and compliance are the responsibility of state police and all relevant government offices."

Exploitation of workers was "truly abhorrent to us" he added. "This case has again tragically highlighted that these practices are still continuing in today's modern society, which is appalling."

Conserve Italia was now "taking legal steps to protect its interests" and would be seeking damages against De Rubertis Rita.

The Guardian reported that the preliminary investigation had now concluded, with a judge now due to decide whether the case against De Rubertis Rita owner Giuseppe Mariano and the gangmaster in charge of the tomato harvesting should go to trial.