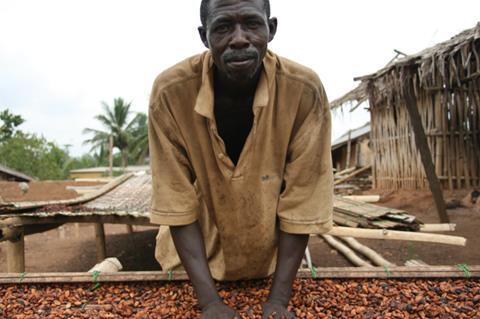 Kit Kat is to end its 10-year relationship in the UK with Fairtrade, switching to Rainforest Alliance-certified cocoa from October.
The change, announced today, was part of owner Nestlé's move to harmonise ethical certification of its worldwide confectionery business, it said. "We have a very large portfolio of confectionery products globally, and the rest is certified by the Rainforest Alliance/UTZ, so it makes sense for us as a business to have one scheme for responsible sourcing."
Nestlé shared the Rainforest Alliance's belief "that building farmer resiliency and tackling key social and environmental issues such as child labour are fundamental to the long-term sustainability of the sector" the Kit Kat maker added.
It had "really valued" its 10 years with Fairtrade and "would like to continue working with the Fairtrade farmers who supply us today, and we are paying for them to become certified with the Rainforest Alliance as well if they wish".
Fairtrade warned that Nestlé's decision would "mean a loss of almost £2m in Fairtrade Premium each year for co-operatives in Ivory Coast, Fiji and Malawi, representing 27,000 small scale producers. This income is a real lifeline for some of the world's poorest farmers."
During the coronavirus pandemic, the Fairtrade Premium payment was providing "tangible support for farmers" the certification body said. "Because producers can choose themselves how to spend the Fairtrade Premium, they have been able to act quickly during the Covid-19 crisis to protect their health, support their communities and compensate for disruption to income."
Writing on behalf of Ivorian cocoa farmers, Ivorian Fair Trade Network chairman Atse Ossey Francis said: "It is with deep regret and deep concern that we have learned that after proudly producing cocoa for Kit Kat in the UK for a decade, small cocoa farmers in Côte d'Ivoire will no longer enjoy the benefits of selling their cocoa on Fairtrade terms."
He invited Nestlé "to continue negotiating with us producer representatives and the Fairtrade label in order to find ways of agreement so as to reconsider their decision not to buy on Fairtrade terms".
The Rainforest Alliance was "delighted Nestlé is strengthening its position in the cocoa sector and unifying its responsible cocoa sourcing commitment across all of its portfolios" said the organisation's chief markets officer, Alex Morgan.
"We look forward to increased collaboration as we continue to support Nestle's global cocoa sourcing commitments through our work to make the cocoa sector more sustainable. The Rainforest Alliance's cocoa certification programme is the world's largest-scale initiative to drive more sustainable cocoa farming and has recently been strengthened with stricter audit rules and enhanced traceability and performance monitoring systems," he added.