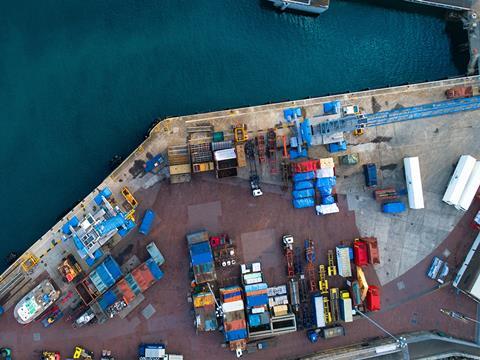 Northern Irish business leaders have called for a six-month deferral to new Brexit checks in the Irish Sea, warning they still lack crucial details needed to implement the plans.
The government has now conceded that new checks on food moving from GB to NI will be necessary following the end of the transition period, but the details are still to be negotiated.
The Northern Ireland Business Brexit Working Group, made up of 15 trade bodies covering 90% of the region's companies, said in a new report there was "little bandwidth or financial capacity" to deal with the changes at the moment due to coronavirus disruption.
It called on Downing Street to improve its engagement with NI businesses to help them prepare.
"We desperately need technical detail from the UK government," said Aodhán Connolly, director of the Northern Ireland Retail Consortium. "We also need a generosity of spirit from the EU to allows derogations to facilitate mitigations. This is going to take movement from both side to make this work."
The group said a new trusted trader scheme would be needed to cover customs and sanitary and phytosanitary checks. The report also contained over 60 questions that businesses want answered on areas including VAT, labour, customs, and business engagement.
Connolly said businesses recognised the government did not want to extend the transition period, but it was "mission critical" that it rapidly released further details.
The report follows new warnings from Stormont officials on Thursday that they had fewer than three weeks to finalise plans for facilities to check goods after Brexit, as the extended border control posts will need to be approved by the European Commission.
The government said last month that Belfast Port, Warrenpoint Port, and both Belfast airports would be expanded for additional checks on food, while Larne Port will be designated for live animal imports.
A Lords committee concluded this week there was a "very high level of anxiety" in industry due to the "herculean task" facing businesses.