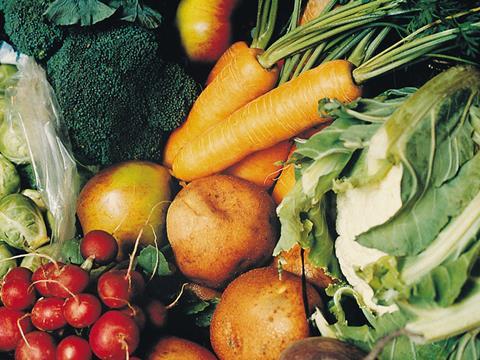 Growing interest from more "conscious consumers" helped drive UK sales of organic food and drink to a record £2.45bn last year.
Total sales across the category rose by 4.5%, according to the Soil Association's 2019 Organic Market Report, published today. Shoppers were becoming increasingly influenced by environmental and animal welfare concerns when deciding what to eat, said Soil Association group CEO Helen Browning.
As a result of this interest, organic sales grew for the ninth consecutive year, the report found, and were expected to top £2.5bn by the end of 2020.
Total organic value sales grew by 2.5% across supermarkets to £1.58bn, with independent retailers seeing sales rise by 6.5% to £406.3m and foodservice rising by 8.3% to £98.5m.
However, the biggest growth category was in online and home delivery, with sales up 11.2% to £362.9m. Soil Association Certification put the success of this channel – which includes organic veg box schemes and online retailers – down to "savvy shoppers turning to the internet to choose from the widest ranges of organic products available".
Ocado in particular benefited from this trend, expanding its organic lines to more than 4,500 SKUs and enjoying a 12% sales increase, the report found. Searches on the Soil Association website for "organic box scheme" increased by 174% year on year to the end of 2019.
Sales rose by 10.3% in organic meat, fish and poultry, despite the rise of veganism and climate concerns causing red meat and dairy sales to fall slightly.
Other categories to see solid growth included canned and packaged food (up 5.6%), chilled food and deli (up 15.9%) and beers, wines and spirits (up 32.7%), which was driven by a 47% uplift in organic wine sales.
Organic fresh produce sales fell by 2.4%. However, the category had faced stiff competition from promotions of standard produce and lower shelf prices, the report stressed, while sales volumes had held up.
"With the climate crisis and British farming dominating the headlines, organic is more relevant than ever as a way for shoppers looking for simple choices to reduce their environmental impact," said Soil Association Certification business development director Clare McDermott.
"2019 was another exciting year for organic and 2020 will be a tipping point where organic becomes the go-to choice for shoppers who want to have a sustainable shopping basket."
Organic certification meant shoppers could be "sure what they are buying has been produced to the highest environmental and animal welfare standards", she added. "The remarkable success of organic wine last year is proof that the demand for nature-friendly products is there, and that if retailers stock more organic, shoppers will buy it."