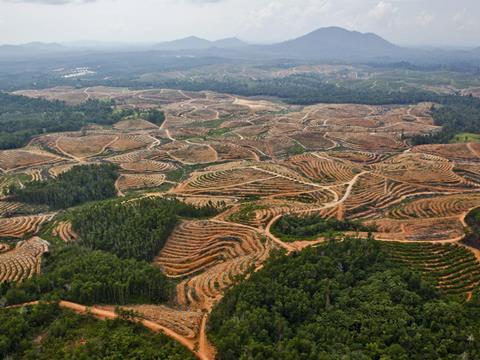 Palm oil sustainability has taken a "major step forward" after certification body the RSPO voted to halt deforestation, prevent peat development and end exploitation.

The Roundtable on Sustainable Palm Oil today adopted a set of revised Principles & Criteria (P&C) with a vote of 212 to 19 at the 15th annual general assembly of members in Malaysia.

The new P&C - the set of environmental and social standards members must comply with to achieve RSPO certification - are the result of an extensive public multi-stakeholder consultation process and a consensus-led task force comprising representatives from across the RSPO membership.
They address some of the main criticisms of the existing scheme, which NGOs have previously accused of not going far enough to protect the environment and workers in palm oil supply chains.

The RSPO standard previously allowed the clearance of secondary forests, which campaign groups argued was devastating wildlife, ruining livelihoods and releasing carbon into the atmosphere.

The new P&C aims to halt deforestation by incorporating the High Carbon Stock Approach methodology. This is used to distinguish forest areas that should be protected or restored from degraded lands that may be developed, using an integrated land-use planning approach.
The revised rules also include a clear requirement for no new planting of palm oil on peatlands, regardless of depth. This is something environmental groups have argued is vital because the clearing and burning of Indonesia's peatlands for industrial palm oil has led to a toxic haze across south east Asia and released billions of tonnes of carbon into the atmosphere.

There are also significant improvements to the protections offered to workers in the revised P&Cs, including assurances for a decent living wage, job security, no child labour and no forced or trafficked labour.

"Today, we endorsed a universal, transformative, and integrated agenda, intended to nstrengthen transparency and inclusivity in the RSPO system, increase implementation of the RSPO standards, boost market uptake of sustainable palm oil through shared responsibilities, and create an enabling environment for our shared vision of market transformation," said RSPO CEO, Datuk Darrel Webber.

The P&C 2018 come into effect immediately, with existing RSPO grower members given a one year transition period to implement the new standards. They will be reviewed again in five years.
Substantive improvements

The new standards have been welcomed by campaign groups, which described today's vote as "a major step forward" for sustainable palm oil. However, there are concerns some weaknesses remain in the sustainability scheme.

The Palm Oil Innovation Group (POIG) - a group of producers, NGOs and buyers that have already committed to no deforestation, no development on peatlands and no exploitation - said the revised P&C presented a "number of substantive improvements to the certification standard".

However, the group expressed its disappointment that the scheme stopped short of an outright ban on toxic pesticides, did not prohibit GMOs, lacked strict standards on working hours and overtime and allowed indirect sourcing of sourcing of illegally produced oils for three years.
POIG also claimed there were still "critical flaws" in the standard's assurance and complaints mechanism, and called on the RSPO to "urgently strengthen its auditing systems and processes".

Environmental group WWF described the new P&C as a "significant step forward" in addressing the existing weaknesses in the sustainability standard, which now represented an "essential tool that can help companies achieve their commitments to palm oil that is free of deforestation, expansion on peat, exploitation and the use of fire."
However, it also raised concerns over the lack of an outright ban on hazardous pesticides in the new standards, and the "leniency of the transition period" around the strengthening of traceability requirements intended to ensure the legality of all fresh fruit bunches.

The Rainforest Action Network welcomed the adoption of a No Deforestation, No Peat, No Exploitation standard, but said the RSPO must "reform its auditing, compliance and grievance systems", or it would continue to face criticism for "greenwashing unsustainable practices".