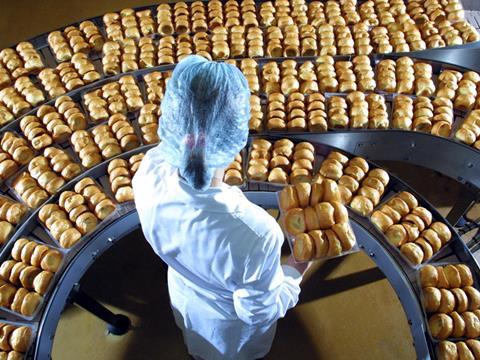 The coronavirus pandemic has exposed significant "weaknesses and vulnerabilities" in the UK food system and is in need of urgent reform, according to a new study endorsed by a panel of 25 industry leaders.
The study, Fixing the Future of Food, by consultancy Veris Strategies, drew on the opinions of senior food executives at businesses including Tulip, Cranswick, Nestlé and Greencore, in addition to a poll of 100 consumers, on how the sector could rebound from the pandemic.
Some 80% of the consumers questioned felt Covid-19 had affected how they think about and value the food they buy and eat, while nine out of 10 expected change to follow that would lead to healthier, more sustainable and ethical food consumption.
However, confidence the sector could meet these challenges was low, with 78% of the industry experts polled believing the pandemic had exposed "serious weaknesses", from supply chain disruptions to inadequate conditions in manufacturing facilities, and the living situations of workers – which made social distancing almost impossible.
And 96% of those experts felt the UK food system was "not equipped to deal with the long-term impacts of Covid-19".
The disparate nature of UK supply chains serving different markets (retail, hospitality and foodservice) also meant there was little flexibility to redirect food to where it was most needed," the study found.
The panel and Veris proposed five "building blocks" that food businesses must now look to: focusing on the need to relocalise, add resilience and responsibility, and to redefine and reimagine businesses to cope with the so-called new normal, with a big emphasis on DTC and online retail.
Elaborating on those points, the report suggested companies should reflect on "how they can achieve a better balance between 'global vs local' by investing in localised and regionalised food systems that support a sense of place and better connect people to what's on their plate".
It also echoed recommendations in the National Food Strategy that the food industry would need to do more on addressing food inequality and eating well through a new "social contract" between food businesses and consumers.
Businesses should also look to help disadvantaged people further, such as in addressing their own labour shortages – by being more inclusive, for example, offering career opportunities to the homeless and ex-offenders.
"The message must be we know you care about your family, you care about your community, you want them to be healthy, and we're going to help you do that," said Liz Goodwin, report contributor and director on food loss and waste at the World Resources Institute.
"Companies can do that in nudge ways by making subtle changes to what they sell us, but they also have a role to play in starting that discussion – they are massive communicators with households and have a massive role in influencing consumers."