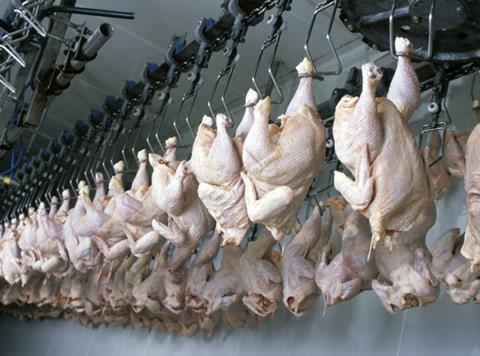 The UK should consider responding in kind to EU import controls on poultry, the British Poultry Council has urged, citing "unbalanced" trade rules that favoured the EU.
The trade body said the government's "head in the sand" reluctance to reciprocate the EU's rigorous checks on poultry imports subjected UK farmers to "continuing regulatory barriers to fair and competitive trade".
The UK in January began a phased implementation of border controls on food entering Great Britain from the EU, though physical checks were put back until July and goods from Ireland were given a temporary exemption. But goods going the other way, including poultry meat, have been subject to checks since last year as part of the UK-EU post-Brexit trade deal.
"We face restrictions and EU producers do not," said BPC CEO Richard Griffiths, who slammed the discrepancy as "unfair" and accused politicians "on both sides" of "ignoring the problem".
The rules contributed to the UK's poultry sector losing what the BPC said was "around £85m in the value of chicken meat exports to the EU compared to 2020".
The sector had by the close of the year been rocked by an unprecedented bird flu crisis and by a vortex of inflation, supply chain hold-ups and soaring input costs.
UK poultry faced "increasing production costs", the BPC said, and risked "further loss of trade for the poultry meat sector" unless the government either enforced reciprocal checks on EU-sourced poultry or came to terms with the bloc on a veterinary or sanitary and phytosanitary (SPS) agreement.
Many of the UK's leading agriculture and food sector organisations had in recent weeks called on the government and EU to agree a veterinary deal, which they argued would make most of the post-Brexit health and border checks unnecessary.
The calls came in the wake of a revised set of EU export health certificates, which led to complaints by British dairy and seafood exporters that the paperwork was introduced at short notice and that border control posts on the continent were interpreting the requirements inconsistently.