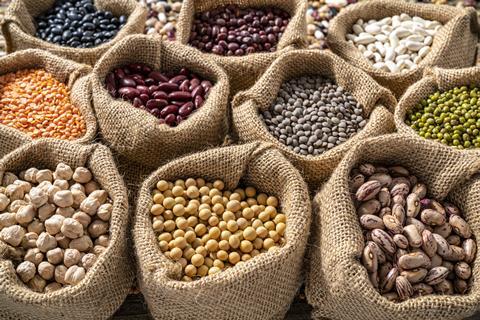 Princes has completed a first-of-its-kind Human Rights Impact Assessment into pulses from Argentina as the company looks to "evolve its approach to human rights and supply chain transparency".
The company sources a fifth of its pulses, including chickpeas and cannellini beans, from Argentina for both its Napolina brand and own-label lines.
The HRIA assessed all aspects of Princes' Argentinian pulses value chain to identify and respond to human rights impacts.
The brand claimed it was an industry first and is informed by international standards and frameworks including the UN Guiding Principles on Business and Human Rights.
"At Princes, we believe that our products should not only be sourced responsibly, but also contribute positively to the lives of those behind them, at all levels of the supply chain," said Paul Williams, group head of environmental & social sustainability at Princes. "So conducting this assessment in Argentina – a first for our business and the industry more broadly – was a major undertaking that we're very proud to have completed."
The review found there were good working conditions and social security for staff working at Princes suppliers.
However, it found risks including inaccessibility to grievance mechanisms for farm workers, road safety and vehicle usage at processing sites, the marginalisation of indigenous communities and gender-based violence and harassment.
The issues will be addressed through a robust action plan, Princes said, with progress reported publicly.
The full report will be available on the Princes website to share learnings with the wider food and drink industry and encourage others in the sector to implement similar practices.
"We are pleased to see that the insights are being shared collaboratively across the industry to enable all stakeholders involved in sourcing products from Argentina to be able to understand and apply some of the insights," said Peter McAllister, executive director of the Ethical Trading Initiative.
Princes has announced plans to carry out a new HRIA every year.
"This first HRIA will help Princes and Napolina, as well as our customers and consumers, to ensure the very highest standards are maintained, as the business proudly helps families to eat well, without compromising on quality, ethics or the sustainability standards we all expect," said Williams.
Princes has also signed pre-harvest tomato supply contracts in southern Italy to guarantee fair pricing and financial stability for around 300 Apulian producers in 2023. For the second year in row, it committed to pricing it said reflected the current costs of production and delivered a profitable return to growers ahead of the harvest season.