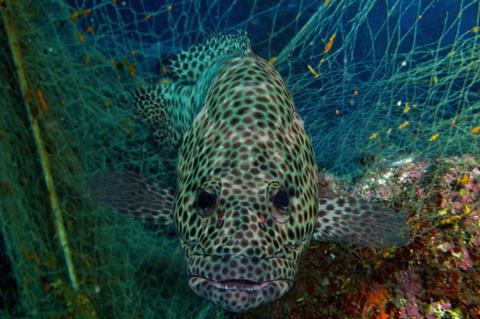 A number of the world's 25 largest seafood companies have made progress in addressing discarded or 'ghost' fishing gear during the past year, but there is "much more work to be done" by many more, a new study has warned.
John West owner Thai Union, alongside US-based tuna supplier Tri Marine and Italian fmcg giant Bolton Group, was singled out for praise in World Animal Protection's second annual study into ghost gear, Ghosts Beneath the Waves, published this week.
While no company was ranked in WAP's top tier for setting best practice, all three suppliers had been promoted during the past year to the NGO's second tier as 'achievers', making the reduction of the impact of ghost gear 'integral' to their business strategy.
"Over the past year the seafood industry has really stepped up to tackle ghost gear and is now taking its responsibilities much more seriously," said WAP's global head of sea change Ingrid Giskes, who hailed the improvements seen since last year's study.
But not every seafood company had shown the same commitment to tackling the issue, the NGO suggested, with businesses with a UK presence such as Princes and Young's Seafood still needing to do more.
The two suppliers were ranked in WAP's fourth tier, which recognised they had engaged with the issue, but had given 'limited evidence of implementation'. It warned an estimated 5% to 30% of the decline in some fish stocks could be attributed to ghost gear.
More work to do
In response, a Princes spokesman said WAP's ranking did not "reflect our approach or long-term investments which will positively impact marine ecosystems".
He stressed the canned food giant, as a founding partner of the International Seafood Sustainability Foundation, had overseen the introduction of non-entangling fish aggregating devices among a raft of sustainability initiatives. It had also invested heavily in recycled plastics in the past five years in order to stimulate greater UK demand for recycled material.
"We take on board WAPs comments, and although we do not own or operate any fishing boats, we will make improvements to fishing gear policies and communication of the same in our seafood supply chain," he said.
Meanwhile, a spokeswoman for Young's stressed it recognised plastic pollution as "a major threat to marine ecosystems and have a responsibility to tackle this throughout our supply chain". She pointed out Young's was "not a vertically integrated organisation, so we do not own any fishing vessels".
However, the supplier did acknowledge ghost gear as a "systemic issue that requires wider engagement". In line with this, Young's had been engaged with the WAP's Global Ghost Gear Imitative (GGGI) since 2015 and had implemented aspects of its Best Practice Framework into its sourcing polices, she said.
Problem that must be fixed 'quickly'
Many companies, governments and other stakeholders had "acknowledged ghost gear is a major problem that must be fixed quickly", added WAP's Giskes.
"The GGGI has welcomed around 40 new members in the last 12 months. The report demonstrates that companies who join the GGGI perform better at addressing ghost gear in their supply chains as well as contributing to the delivery of the United Nations' Sustainable Development Goals. We look forward to welcoming more members who want to protect marine life."