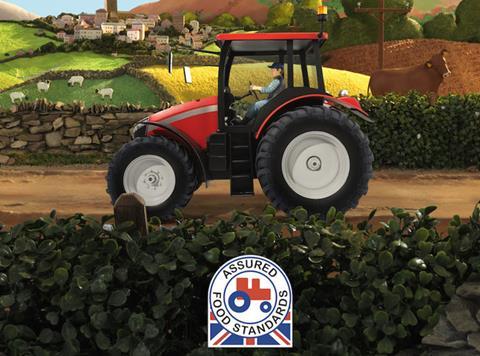 Red Tractor is to open a hotline for people to report concerns regarding its supply chain, following a series of welfare scandals on its farms.
The assurance scheme said its confidential line would be open 24/7, 365 days of the year, for concerned parties to report breaches of standards after its June launch date. It comes in the wake of a series of high-profile exposés after animal rights groups infiltrated its farms last year, uncovering a host of violations.
A spokesman for Assured Food Standards-owned Red Tractor stressed the care line would hear concerns around every aspect of the assurance scheme's supply chain, rather than just its farms.
In the aftermath of the scandals, the farm assurance scheme announced it would implement a suite of 'modular standards' designed to strengthen and increase the remit of Red Tractor's existing regime.
The body is set to unveil its new standards later in the year, with the shake-up due to see standards communicated to consumers via on-pack labelling. It will also look to cover specialist areas such as higher welfare and organic production.
Meanwhile, CEO Jim Moseley told The Grocer the scheme was in talks with environment and farming certification organisation Leaf Marque, in the hope the two would collaborate on an environmental enhancement project for farms.
It comes ahead of Red Tractor's next advertising campaign, which will air from 28 March until May Bank Holiday, and follows the success of its first TV ad push last autumn. The campaign will be buoyed by recent research, which found Red Tractor 'second to none' on traceability and food safety in a study investigating global farm standards schemes.
"As a complete scheme, Red Tractor is the highest-performing on an international basis," said Jonathan Birnie, the Nuffield scholar who conducted the research. "While there are areas that could be developed, the existing scheme is comprehensive and a great foundation on which to build these additional standards."
Moseley added: "While specialist schemes may have higher standards on specific single issues, they do not offer the breadth across all aspects of farm production. Our ambition is to combine the current robust core of Red Tractor with additional standards on single issues to create a broader and stronger offer."