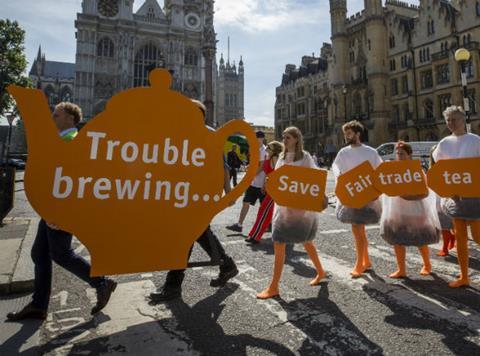 The All-Party Parliamentary Group for Fairtrade is to request a meeting with Sainsbury's to debate the "unanswered questions" about its in-house scheme.

MPs expressed concerns over the auditing and principles behind Sainsbury's in-house Fairly Traded scheme at the APPG post-election meeting yesterday.

APPG for Fairtrade chair Holly Lynch, Labour MP for Halifax, said the group was keen to meet with Sainsbury's ahead of plans to extend the trial scheme beyond its own-label tea range.

"A number of MPs have concerns that the scheme doesn't have the same transparency and rigour as Fairtrade in the way Sainsbury's is doing things," she told The Grocer.

Lynch expressed particular concerns over the auditing. Sainsbury's scheme is independently audited and the company says it will face more rigorous checks than Fairtrade does.
However, the Labour MP argued the auditor should be an accredited external body such as Fairtrade. "They've got to work with a credible external organisation for it to be audited properly," she said. "There are also concerns they are reaping some of the benefits of the infrastructure Fairtrade has worked hard to introduce without paying into it."
The APPG group was also concerned over Sainsbury's plans to retain some control over the funds to farmers, Lynch added. Instead of allocating a premium that farmers can choose how to spend - as is the case with Fairtrade - farmers will present action plans to Sainsbury's, which will provide "tailored advice, data and practical support".

"Fairtrade is very much about empowering farmers to trade fairly and make their own decisions and invest in their communities as they see fit," Lynch said.

Lynch questioned why Sainsbury's couldn't have an independent scheme accredited by Fairtrade, such as the Mondelez Cocoa Life initiative. It is understood Sainsbury's had sought to develop the scheme in partnership with Fairtrade, but the collaboration went awry close to the launch date.

"We've had some retailers like Waitrose and the Co-op really embrace Fairtrade but it's also the role of the APPG to hold others to account where they don't embrace it in the same way," she said. "Some of the big retailers are always looking for the lowest possible price but this is about saying you have a wider responsibility and you can't just do this without any repercussions."

Sainsbury's has consistently said it will reap no financial benefit from the Fairly Traded scheme, but has argued its move away from Fairtrade is about creating a better system. "For the first time, farmers will be able to benefit from evidence-based data that is pertinent to their farm, crop and country," its factsheet says.
A Sainsbury's spokesman said: ""We would welcome the opportunity to meet the APPG for Fairtrade and explain the benefits of our Fairly Traded pilot - and, crucially, how these benefits for African farmers exceed those offered by the Fairtrade scheme.
"As part of this we are happy to address their concerns about auditing. We have committed to being open and transparent. Our scheme will be independently audited and these will be published annually. We note that Fairtrade has refused to do the same."