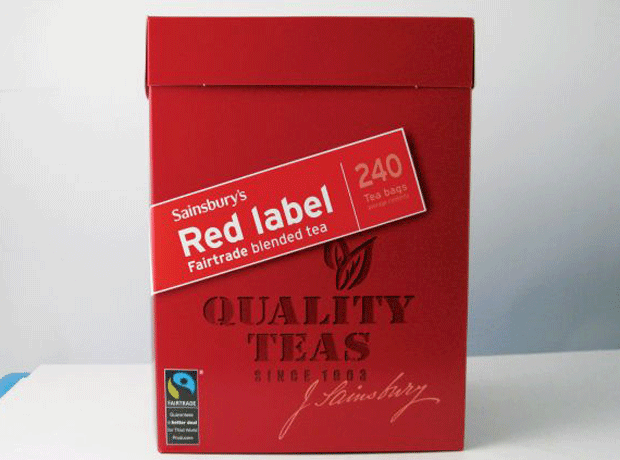 Sainsbury's has launched a new sustainability standard it says will change the way it sources key crops and ingredients, and build better relationships with producers throughout its supply chain.

Sainsbury's Sustainability Standards would be rolled out across categories including bananas, coffee and prawns, it said, starting with a pilot project on key own-label tea lines, which will start carrying a Sainsbury's Fairly Traded logo.
The move raises questions about the retailer's ongoing relationship with the Fairtrade Foundation after the NGO declined to work with Sainsbury's on the tea trial, citing concerns growers could be "disempowered".
The trial will see the retailer's extra strong, green, red label and gold label tea ranges drop their Fairtrade certification, and adhere to newly created standards, which Sainsbury's said would secure a "sustainable supply chain of the UK's favourite drink for the future".

The pilot would also guarantee a minimum price and social premium for tea farmers, to "boost resilience" amid issues such as climate change, volatile prices, global competition and political instability.
The retailer also hoped to provide advice and training for farmers in order to "help secure their future livelihoods", it said, while the programme would also use farm data and modelling to help producers understand the strengths and vulnerabilities within their farms.

Sainsbury's has also appointed a new advisory board, which will oversee work on sustainable sourcing and help develop support projects, called the Sainsbury's Foundation programmes. The board will be run by the retailer, but will also include independent specialists from charities, academics and NGOs.

"I'm immensely proud to be launching the Fairly Traded pilot today, alongside the new sustainability standards and advisory board," said Sainsbury's chief executive Mike Coupe yesterday (23 May).

"Ethical and sustainable sourcing are at the heart of our business and as the world changes we cannot stand still. That's why this innovative pilot will build on our existing work and relationships and we're aiming to deliver significant benefits for our farmers, our businesses and our customers," Coupe added.

"We most certainly don't pretend to have all the answers - far from it. That's why this project is about testing and developing new approaches, collaborating with expert partners and listening to our farmers and producers, alongside finding out what works, and what can be taken to scale and adopted to secure a sustainable supply chain that benefits both our suppliers and our customers."

Fairtrade

However, the Fairtrade Foundation voiced concerns over Sainsbury's new measures, and said it had declined Sainsbury's request to be a partner in the launch of the tea pilot, due to "fundamental concerns" that it would not meet the core principles of Fairtrade.

"While we welcome and expect companies to work towards improving social, economic and environmental outcomes within their supply chains, we don't believe the execution of this current model will, on balance, deliver positive changes for tea farmers," said Michael Gidney, CEO of the Fairtrade Foundation.

He warned that 229,000 farmers would be affected by the changes, and that farming groups in Africa felt control would be taken away from them under the new scheme.

'We told Sainsbury's loud and clear: your model will bring about disempowerment,' said Fairtrade Africa tea producers from East, Central and Southern Africa in an open letter. 'We are extremely concerned about the power and control that Sainsbury's seeks to exert over us.

'We work for, own our product and own our premium. We see the proposed approach as an attempt to replace the autonomous role which Fairtrade brings and replace it with a model which no longer balances the power between producers and buyers.'