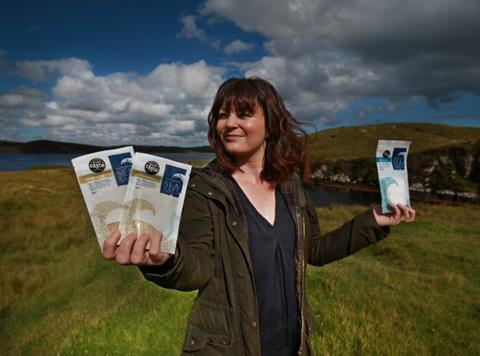 Sea salt suppliers have rejected claims that 'seeding' using imported salt is a common production practice, after the owner of under-fire Hebridean Sea Salt suggested this was the case.
Hebridean Sea Salt is currently under investigation by Western Isles Council and Food Standards Scotland over questions about the provenance of its salt. FSS published a statement last week accusing the brand of using 80% imported table salt instead of Hebridean salt in its product.
In response, owner Natalie Crayton told The Herald newspaper her brand used imported sea salt only for a process called seeding, whereby extra salt is added to salt water to reduce the amount of heat needed to evaporate the water and produce sea salt crystals. Crayton claimed other UK sea salt producers also used seeding to produce sea salt, and that the country of origin of the seed crystals was "irrelevant", as the salt was still processed in the Hebrides.
But Welsh producer Halen Môn, which supplies Sainsbury's, Tesco and Marks & Spencer, said there was "no justification" for using seeding in salt production. Co-founder David Lea-Wilson said: "It is a red herring to say you have to seed crystallising pans with salt from anywhere. We're really disappointed that Hebridean has [….] tarnished others by saying specifically it is common practice to seed crystallisers. It isn't in our case."
Maldon Salt Company similarly said it did not use seeding in the production of its sea salt, though it stressed it was "not in a position to comment on an FSS investigation".
"Our customers should be assured of the provenance of Maldon sea salt," said Steve Osborne, managing director at Maldon. "Maldon salt is 100% British and every flake is produced at our salt works in Maldon, as it has been for the last 135 years."
Other sea salt brands have also denied using seeding, including Isle of Skye Sea Salt. "We make our salt differently. We use solar evaporation, we don't do seeding and I'm not exactly sure what that is," said director Nanette Muir. "And we're the only company in the UK who make it the way we do."
The brand, which took to social media on Friday to reassure customers its sea salt was 100% Scottish, said it was also in discussions with two producers who were previously using Hebridean Sea Salt in their products, but were now looking at Isle of Skye Sea Salt as an alternative.
Irish brand Achill Island Sea Salt, which has listings in Northern Ireland and Ireland, agreed that seeding was not common in the production of sea salt. "This is not something we've ever even heard of, and it's definitely not something we do," said Maebh O'Malley, sales and marketing manager for the family-run business. "Our sea salt is 100% Achill Island sea salt. We never have, nor ever will, add salt from other sources."
FSS seizure
Speaking to The Herald last week, Crayton claimed "bully boys forced me out of business" after FSS seized all of her product, and told her to recall it from supermarkets. She added the issue at hand had simply been about labelling and that she had made changes to packaging to placate FSS concerns.
But in its statement, FSS said: "This is not simply a case of mis-labelling. It is FSS's view that, while this is not a food safety issue, deception of consumers on this scale is not acceptable and could damage Scotland's well-deserved reputation for high quality, authentic food and drink products.
"It is for food businesses to ensure that their production methods are compliant with food law. FSS is committed to preventing the deception of consumers."
Professor Chris Elliott, director of the Institute of Global Food Security, said the case sent a clear message to anyone buying Scottish produce that there is a "strong enforcement body" – the FSS – that looks into these cases. "It also shows that reputations can be damaged very easily," said Elliott. "It shows there is potential for deception in every type of food commodity ranging from salt to saffron and everything in between."
The brand's sea salt was delisted from Sainsbury's in January, according to Brand View, and was withdrawn from sale in Waitrose as soon as the retailer saw the statement from FSS. However, the product is still marked as available on Ocado's website (rsp: £1.99/150g).
"Our supplier has confirmed that the next delivery of stock after this incident is suitable for sale, which is why it is currently on the website," said a spokeswoman for Ocado.
Natalie Crayton did not respond to The Grocer's request for comment.