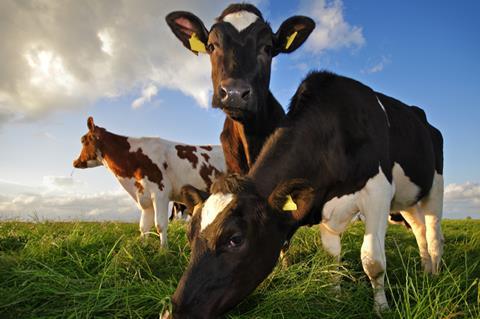 Traceability concerns have long been a dark cloud hanging over the livestock industry.
Food provenance is an increasingly material environmental, social and governance (ESG) risk. In response, we are seeing a trend emerge of retailers shortening their meat and dairy supply chains to protect consumer confidence and avoid potential losses to brand reputation.
But in doing so, are retailers now taking on the same sustainability risks as their suppliers?
Last month, Walmart announced that for some of its stores, the company will source no-hormones-added Black Angus beef directly from a Texas rancher, bypassing meat processors such as Tyson Foods and Cargill. The company has also increased control over its dairy supply, opening a processing plant in Indiana that supplies private-label milk to stores.
Similarly, Costco is building a poultry processing plant in Nebraska to supply 43% of its famous rotisserie chicken needs. In the UK, meanwhile, Sainsbury's has explored a pilot scheme to test vertical integration of its beef supply chain.
Backwards integration into the agricultural supply chain is a fast-emerging trend as food companies seek to avoid the significant potential value that could be lost due to opaque and murky supply chains in the journey from field to fork.
When FAIRR launched its Protein Producer Index last year to help investors assess global meat, dairy and farmed fish producers across a range of ESG issues, we found that almost three-quarters of the companies assessed in the index were categorized as 'high risk', with little or no disclosure of how they address the impacts of intensive livestock farms.
The poor performance of these meat producers is clearly one driver for why more retailers are beginning to play the role of integrators and producers themselves. In an intensely competitive grocery industry, end-to-end visibility of meat and dairy products is seen as a significant driver of increased consumer confidence. And it's a clear warning sign to suppliers to address sustainability impacts or risk losing their biggest customers.
But do shorter supply chains and increased visibility necessarily reduce company exposure to ESG risks, or does it bring retailers one step closer?
An important question for investors looking at long-term horizons is to what extent (if at all) these companies consider the impacts of climate change when making investments. One of Costco's reasons for choosing Nebraska for its poultry operations is abundant water and corn, but similar to other Midwestern states, Nebraska will continue to experience more extreme weather events and drought. According to a recent US government report, "early estimates of crop and livestock losses from this year's floods are approaching $1bn in Nebraska alone, and damages are expected to climb much higher for the region".
Warmer temperatures could also have profound implications for beef and dairy cows, including reduced appetites, slower growth and lower productivity. And that's if there is land to farm on.
Almost 60% of the best-grade agricultural land in the UK lies less than five metres above sea level and could become at risk of regular coastal flooding with warmer temperatures.
For investors, two central questions remain: when should they begin to worry about how increased commodity costs and volatility will impact the meat and dairy margins of major food retailers such as Walmart?
And from a wider perspective: is the food industry doing enough to counter the increasing concerns about meat and dairy's poor environmental and public health metrics?
The future success of today's retail giants will be profoundly shaped by how those questions are answered in the years ahead.