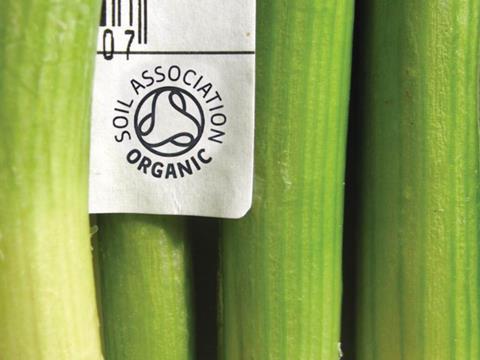 The Soil Association's certification arm has agreed a "formal partnership" with French organic certification body Ecocert, in a move that will give its members access to more than 130 international markets.
The partnership means UK producers and processors will be jointly audited to Soil Association Certification and Ecocert standards when inspected. Once accredited by Ecocert, the businesses will be able to access a range of countries in which the body operates, such as the US, Japan and South Korea.
In return, Ecocert will be given preferred rights outside the UK to audit businesses to higher Soil Association Certification standards, with Ecocert clients across the world now able to carry SAC's symbol once they have been audited and certified.
The tie-up comes as SAC this week said it was "continuing to look at solutions" over how to continue access to the EU for certified food businesses after Brexit.
It has previously admitted to looking at setting up an Irish operation to counteract the potentially "devastating" effects crashing out of the EU would have on organic food certification. However, it stressed UK certified companies would not be given an automatic registration from such an arrangement, with SAC still needing European Commission approval to export to the bloc after Brexit.
This permission had still not been granted, a spokesman for SAC confirmed. And while the partnership with Ecocert did "extend our international reach", as SAC CEO Martin Sawyer put it, the spokesman stressed the new partnership alone would not provide a solution for exporting to the EU after Brexit.
"No certification bodies, wherever they are, will be approved by the European Commission until the UK becomes a third country," the SAC spokesman said. "SAC has applied for a 1235 extension of scope to the Commission [which certifies farmers and processors uphold EU organic regulations], but this is likely to only be processed after Brexit."
Notwithstanding the ongoing uncertainty with SAC access to the EU, Sawyer said the partnership meant the Soil Association's higher organic standards could now be accessed by a "broader range of organic producers and processors" across the world.
It would also increase the scheme's impact and promote the Soil Association organic symbol "as a globally recognised and trusted sign for organic".
He added: "This partnership reinforces the shared values and vision for organic agriculture domestically and abroad between SAC and Ecocert, and will allow us both to better face future opportunities and challenges for the global organic sector. It is an exciting first step in what we hope will be a fruitful and mutually beneficial relationship.
Ecocert CEO Philippe Thomazo said the two groups "share common ground as pioneers" in organic certification in the UK and France. "This is a great opportunity for both of us to continue providing our clients all around the world with highly demanding standards."