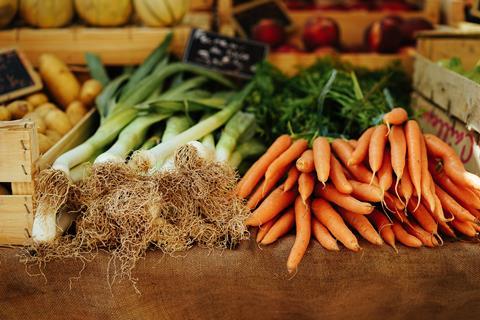 Sustain is campaigning for the government to buy more produce from British farmers and food suppliers as part of the £2.4bn it spends annually on catering for the UK's hospitals, schools and other public institutions.
The food and farming alliance claimed the current buying standards for food (GBSF), which public caterers are asked to adhere to, should be redesigned to emphasise the importance of quality over cost.
Introduced in 2014, the rules are geared towards meeting higher environmental and animal welfare standards, including verifiably sustainable fish, as well as the promotion of healthier eating.
Yet Sustain warned a get-out clause existed where there "is a significant increase in costs which cannot reasonably be compensated for by savings elsewhere" and calculated the standards were not followed 50% of the time.
The body urged ministers to address the loophole in a food strategy white paper, set to be published early next year.
Its call follows recommendations from Henry Dimbleby's National Food Strategy, which it said found the government's buying standards did not necessarily guarantee that the food purchased was good.
"This should be a win-win for the government," said Ruth Westcott, campaign co-ordinator at Sustain.
"Instead of wasting millions of pounds on bad food they could be using their massive buying power to support the British farmers working hard to meet high standards, spending more taxpayer money in rural communities and providing millions of people with healthier food.
"By buying better, local produce it could also be kinder to the planet and help tackle climate change. We need to see a proposal to change the law in the new year."
Rob Percival, Soil Association head of food policy, said thousands of schools and hospitals working with its Food for Life initiative (which promotes the procurement of healthy food in the public sector) were already serving seasonal and freshly prepared menus, while also taking steps to source local, organic and agroecological ingredients, and doing so within budget.
"Each pound spent through Food for Life delivers over £3 in social value to local communities, benefiting both producers and local food businesses," he said.
"This is despite – not because of – national procurement policy. The government must work harder to ensure that public spend supports British farmers producing sustainable and higher-welfare produce."
Andy Jones, chair of caterers group PSC100 said all school, hospital and prison menus should include high-quality, high-welfare British produce to support farmers and make diets healthier and more sustainable.
"Better food will also improve intake and help tackle malnutrition," he added.
"It's absolute nonsense that this isn't happening at the moment but the standards we have aren't working. Now is the chance to be bold, and do the right thing."