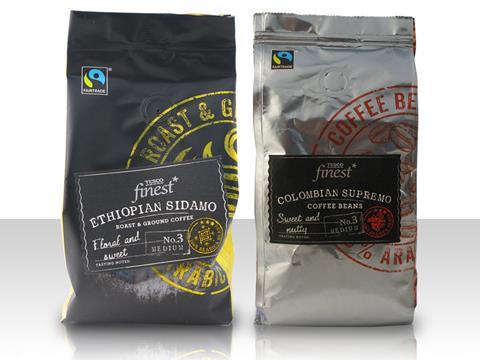 Tesco has dealt yet another blow to the Fairtrade Foundation, with plans to switch all of its own-label coffee to the Rainforest Alliance certification scheme.

In February, the UK's biggest retailer revealed plans to make 100% of its own brand tea Rainforest Alliance certified by 2020. Now The Grocer understands Tesco is looking to apply the same policy to its coffee lines.

Currently, its own label offer is made up of a mixture of Rainforest Alliance and Fairtrade Foundation-accredited lines, with some products not currently certified by either. The move to go fully Rainforest Alliance will mean a number of Fairtrade-endorsed lines will have to be switched.

The impact will be greater in coffee than tea - there are three Fairtrade-certified own label tea lines available via Tesco.com, compared with eight coffee SKUs.

Tesco has approached its suppliers to check when they will be able to make the changes. It is understood some will be ready to switch from as early as next year.

A spokeswoman for Tesco acknowledged it had already moved some of its coffee to Rainforest Alliance, but refused to confirm whether it planned to convert the whole range or not, or when. A Fairtrade Foundation spokeswoman also declined to comment.

Earlier this month, Sainsbury's clashed with the Fairtrade Foundation over the retailer's trial of a new Fairly Traded standard.

The trial, which is part of the new Sainsbury's Sustainability Standards initiative, will see four of its own-label tea lines abandon Fairtrade accreditation and instead adhere to the retailer's own sustainability standards.

And last November, Cadbury said it was launching Cocoa Life, a new sustainable sourcing scheme across its entire range of chocolate in the UK & Ireland, which will see the Fairtrade Foundation logo disappear from the front of packs of products including Cadbury Dairy Milk.

"Though Cadbury Dairy Milk products will no longer be Fairtrade certified. Fairtrade is partnering on the programme as it expands to reach 200,000 cocoa farmers and one million community members by 2022. This will mean that in the UK five times as much Cadbury chocolate will now be made with cocoa that has been independently verified by Fairtrade as being sustainably sourced," said the Foundation spokeswoman.