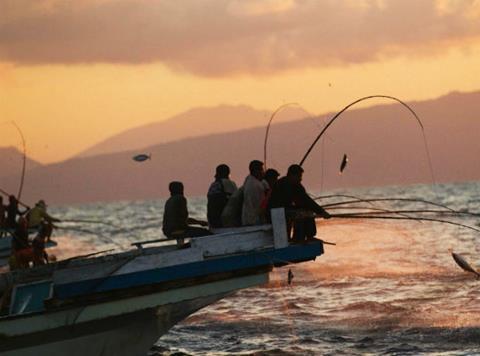 John West owner Thai Union has partnered with global environmental NGO The Nature Conservancy to commit to "full supply chain transparency" across its global tuna operations.
The "pioneering" move was part of an effort to push the entire tuna sector towards eradicating illegal, unregulated and unreported fishing practices, said Thai Union.
It would work with TNC's sustainable fisheries experts to implement 100% monitoring of its vast tuna supply chain by 2025, it added.
The pair also plan to introduce 100% monitoring in Thai Union's European wild caught sprat, mackerel, herring and whiting supply chains over the same time period. They will implement a fish aggregating device (FAD) management plan in Thai Union's wild caught purse seine tuna supply chain that mitigates environmental risks no later than 2025.
Thai Union's transparency plan will see it deploy electronic monitoring on all partner vessels in its supply chains – including onboard video cameras, GPS, and sensors to automatically track activities onboard – and/or human observers.
The commitment had the potential to push the entire industry in "a more sustainable direction by addressing widespread illegal, unregulated and unreported (IUU) fishing practices", the company said.
It follows a series of controversies over the unsustainable sourcing of tuna over the past five years, most recently when Princes pledged to cut its sourcing of Indian Ocean tuna by half on 2017 levels in October, amid collapsing stocks. Retailers including Tesco, Co-op and M&S have also made commitments to protect the stock.
Meanwhile, the Western and Central Pacific Fisheries Commission continues to suspend observer coverage on purse seine fishing vessels due to Covid-19.
"Without nearly enough at-sea monitoring happening globally, this commitment is more significant and timely than ever," Thai Union said.
"Not only has fishing continued during the pandemic (a recent study estimated that Covid-19 has reduced fishing efforts by just 4%), the pandemic has in fact sparked a surge in the purchase of canned tuna globally," it added, citing UN FAO data showing wholesale prices were up 41% year on year.
The seafood giant's pledge follows an announcement it had committed to its first sustainability-linked loan last week, which will see the group borrow $400m with sustainability-based KPIs that ultimately reduce the level of interest repaid if achieved.
It said IUU malpractice had "serious repercussions for everything from overfishing of dwindling tuna stocks, to unsustainable levels of bycatch of at-risk sealife like sharks and sea turtles".
The lack of adequate monitoring also contributed to hundreds of millions of dollars in lost revenues for local fishing communities and national governments alike, it added.
"We understand that change does not happen in a vacuum, it is through collaboration and partnership that we shape the future," said Thai Union president and CEO Thiraphong Chansiri.
"Change takes more than a wish and well-crafted words, those that are in a leadership position must define the path forward through actions and results," he added. "I look forward to the sustainable future Thai Union and TNC can help create through increased electronic monitoring and transparency throughout the seafood industry."
The Nature Conservancy's large scale fisheries programme director Mark Zimring said: "Effective monitoring contributes vital data, the current absence of which makes regulation of even the most vulnerable fisheries difficult.
"By partnering with one of the biggest players in the seafood supply sector to plug this data gap, Thai Union and TNC have a real chance to achieve durable change at a global scale."