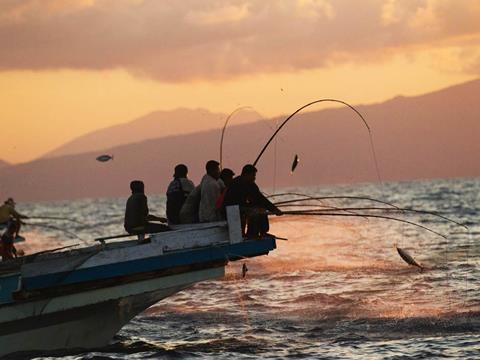 In one of the bigger ironies to hit the fish world of late, the Maldivian pole and line fishery, which is the only MSC-certified pole and line fishery in the world, is now facing the loss of its MSC status because of concerns over Indian Ocean tuna stocks.
I learnt of this predicament during a recent trip to Thailand with sustainable seafood certification body Friend of the Sea, which hosted its annual conference and one-to-one meetings between retailers and seafood manufacturers in Bangkok.
Perhaps unsurprisingly, given the event's location and the ongoing Greenpeace campaign, tuna and the pros and cons of various catching methods were hot topics of debate.
There was a general consensus that purse seine fishing, with the help of fish aggregating devices (FADs), will inevitably result in the deaths of sharks and other marine life, and will continue to put pressure on endangered tuna species.
But almost all the big tuna companies argued that while pole and line was a more sustainable alternative, there is simply not enough around to scale back purse seine fishing.
So I was interested to speak to Mifco, the government-owned enterprise set up to promote Maldivian pole and line-caught tuna. The company's chief executive Adley Ismail told me the fishery could easily increase its catch – if foreign purse seiners stopped draining the surrounding seas with the help of FADs.
He claimed Maldivian pole and line boats are catching well below capacity because there is simply not enough fish in the sea. So far this year, the total Maldivian tuna catch has dropped 30% and boats are usually pulling in two to three tonnes a day instead of the 20 to 30 tonnes they have previously caught.
And now the fishery's MSC status has been thrown into doubt following a ruling over Spanish company Pesqueras Echebastar, which was refused MSC certification for its purse seine fishery because of concerns the Indian Ocean Tuna Commission (IOTC) does not have sufficient harvest controls in place.
This has forced the MSC to review other fisheries under the IOTC management system – including the Maldives pole and line – despite the fact that that pole and line fishing is unlikely to have an impact on stocks.
The whole situation raises questions over where responsibility for sustainability should begin and end when it comes to a global resource like tuna.
Companies can argue all they like that there is not enough sustainable tuna to go round, but unless they take action to reduce unsustainable fishing, that situation will never change. And of course retailers and consumers have a responsibility to push for change through their spending power.
Keep an eye out for our upcoming tuna investigation, which will look at all of these issues in more detail.