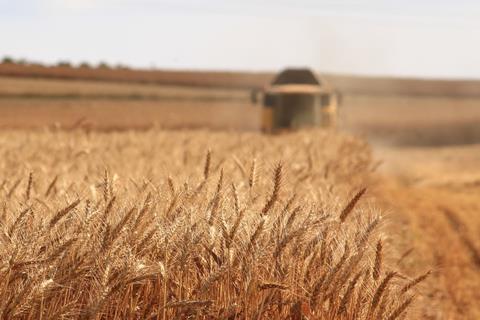 The extreme changeable weather the UK has experienced this summer has hit the harvest of cereal, potato and orchard crops, The Grocer has learnt.
Sudden, sharp downpours of rain and hail combined with intense bursts of heat have caused delays to harvesting and crop growth, while, for some foods, yields have been revised downwards.
According to the Met Office, July was the fifth warmest on record but also one of the wettest against the 30-year average for parts of the south east, south west, Midlands and Yorkshire (see graphic below).
These conditions have compounded the detrimental impacts felt by crops after the frostiest April on record and unseasonably cold weather in May.
For cereal crops, the changeability of the weather has "caused significant problems in certain areas" the NFU said. It also warned a continuation of these conditions would reduce crop quality.
"For many areas they just haven't had many clear dry days in a row to harvest, so things have been a bit stop-start with harvesting," explained NFU chief combinable crops adviser Anthony Hopkins.
"Where there has been harvesting, grain has often had to be dried because the better weather hasn't lasted long enough to get moisture levels down to where they need to be," he said.
"The problems will grow if the unsettled weather continues because it will start to impact on the quality of the grain if it goes on too long, especially for crops like milling wheat."
Hopkins added this year's harvest was always going to be behind where it would be in an average year as the cold spring had delayed ripening.
The latest AHDB statistics from 12 August put the winter barley crop at 88% harvested, oilseed rape at 61% and winter wheat at 2%. This meant harvesting progress for barley was on a par with the five-year AHDB average, while both the OSR and wheat crops were well behind.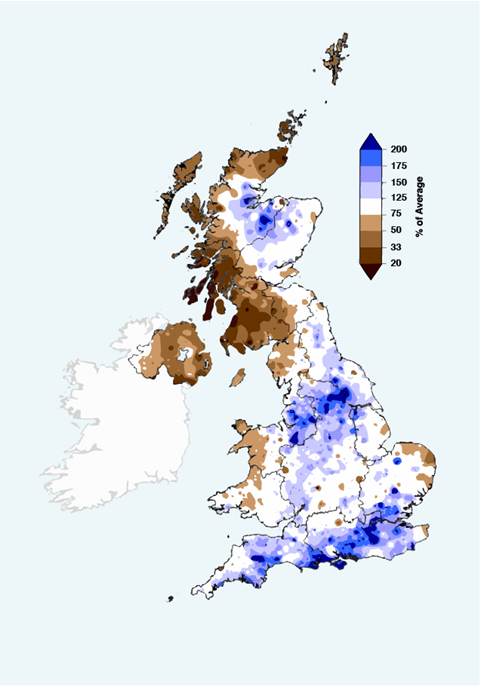 While AHDB senior analyst for cereals and oilseeds James Webster said it was too soon to say whether this had caused quality issues for wheat, he warned tighter crop estimates across major exporters like Canada meant prices would remain high in the immediate future.
"If the weather continues to be unfavourable and we get confirmation of tighter UK yields, we could well see prices supported in that short-to-medium term window," he said.
And it was a similar outlook for potatoes. While the NFU said it was too soon to comment on overall progress, McCain said the potatoes produced by its UK growers were "currently tracking slightly behind schedule".
Despite this, the processor said is remained "optimistic" for the season ahead as the crops had "better potential than recent years" when extreme rain and drought hit both quality and yields.
The picture was less rosy for cherry growers, who have been forced to revise down their crop estimates by 31% due to July's extreme wet weather in the south east.
Trade body Love Fresh Cherries had initially forecast a crop of 5,500 tonnes, having managed to avoid frost damage in the spring. But after July's storms this figure was cut down to 4,200 tonnes.
"Whilst we've certainly experienced extraordinary and challenging weather conditions causing a slightly reduced crop towards the end of our picking window in August, this has had no impact whatsoever on fruit quality," said Love Fresh Cherries spokesman Matt Hancock.
It comes after apple growers warned last week there would be a "shortfall" of early flowering varieties like cox and bramley due to damage inflicted by the spring frosts. Trade body British Apples and Pears said it could not provide forecasts for the rest of this year's crop owing to the volatility of the weather.