As food export bans spread like wildfire, just how bad is the picture for world hunger?
First came the pandemic, then the war in Ukraine. Now, with global food supplies under a strain not seen in years, export bans are threatening a "catastrophe" for the world's food security.
Even before Russia invaded Ukraine, the UN World Food Programme estimated 44 million people worldwide were at risk of famine. Now, the World Bank is warning that could rise by "hundreds of millions", with demand far outstripping supply and the Food & Agriculture Organization's (FAO) food price index at its highest ever level.
In response, 22 countries, including Russia, Morocco, Argentina, China, Turkey and Egypt have imposed export restrictions on products including wheat but also (among others) tomatoes, lentils, eggs, soybeans and chickenmeat, in an attempt to stabilise domestic supply and keep a lid on price hikes. Some other countries, like Indonesia, had restrictions in place before the invasion.
The great concern is that as the war continues and shortages of grains, vegetable oils and other foodstuffs becomes more acute, more countries will restrict trade in response, in a repeat of the global food crisis of 2008-11. So just how bad is the situation today? And how can we avoid it getting any worse?
Current restrictions account for 17.3% of globally traded calories, according to the International Food Policy Research Institute (IFPRI). That is more than in the 2008 food price crisis, when the figure briefly hit 17.2% and contributed to 155 million people falling into poverty.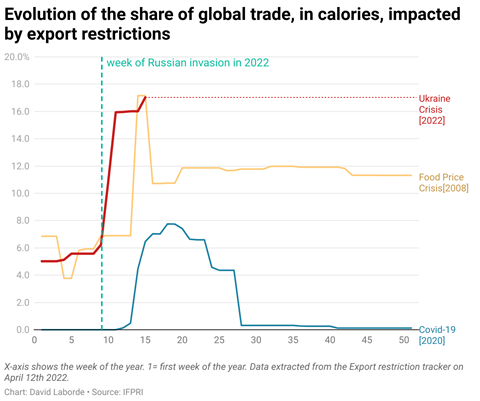 According to Cindy McCain, US ambassador to the United Nations Agencies for Food and Agriculture, export bans are now one of the "key questions" facing global food supply and further restrictions will have "devastating" consequences.
"If we were to close borders, people would literally starve," she told the German Marshall Fund of the United States last week.
The G7 nations recently pledged not to impose food-export bans, but the likes of Australia, Brazil and Argentina have made no such commitments, while countries already restricting exports are some of the world's major producers of agricultural commodities. Ukraine and Russia have both limited exports of grains and sugar (on top of sanctions), and together make up around 42% of total global calories in those products, according to the IFPRI. Indonesia is limiting palm oil exports and makes up 55% of total calories in that product, while Morocco, which accounts for 12% of total tomato calories, is limiting those.
The good news, unlike in 2008, is that rice supplies, which feed billions across Asia in particular, look secure. India, the world's largest rice exporter, which restricted exports in the previous crisis, is now in a "totally different state of mind", with a good harvest, good stock, and ready to export more, says David Laborde, senior research fellow at the IFPRI.
Further export bans would not be a surprise, says Laborde, but they are more likely to come from smaller countries than major producers like the US and Canada. While this could still be hugely damaging for local trade partners, the impact on global supply would be limited. Wheat and corn stocks are also reportedly high.
Fertiliser fears
For Laborde, restrictions on fertiliser are the greatest concern. "That will really impact everyone, everywhere," he says.
Russia and Belarus, for example, together make up around 40% of global potash supplies, and through a combination of sanctions and export restrictions, this has been cut from the world market. China has limited its supplies of nitrogenous and phosphate fertilisers that each make up 10% of global supplies, according to the IFPRI.
The picture is not helped by people often being less sensitive to questions around fertiliser than food, says Laborde.
"If you ask policymakers, 'do you want to block a truck of wheat?' they will understand it's more sensitive than talking about a ship of phosphate."
According to WTO director-general Ngozi Okonjo-Iweala, co-ordinated government action is needed to prevent a series of cascading export restrictions of both food and fertiliser.
Countries holding buffer stocks who can afford to share must do so, she said in March, while major wheat producers like the US, Canada and France, should increase cultivation, and others like China, Germany, and Morocco should increase supply of fertiliser.
But while that may deter some export measures, the reality is the WTO has no authority to stop them. Countries are typically forbidden from imposing trade restrictions, but food and agriculture is exempt under certain conditions.
"There are famous clauses on security that allow various provisions of WTO agreements not to be applied," according to Peter Ungphakorn, a former WTO official. "And if they invoke that and say: 'we might have food riots or run short of oil,' that's a security issue and there's not much that can be done about it."