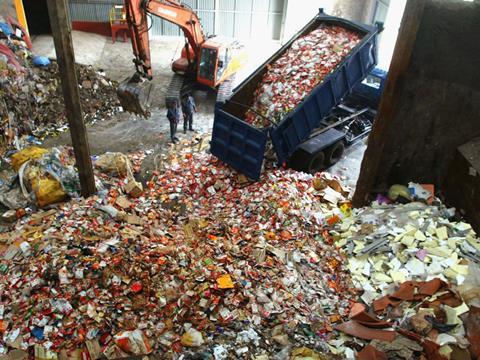 Progress on waste prevention is in reverse. Retailers and manufacturers are failing to make headway against the Courtauld Commitment's manufacturing and retail waste target, according to the latest Wrap figures, which reveal the amount of all waste produced by signatories actually increased by 0.1% to 2.76 million tonnes in 2013.
A 0.1% increase is a minor one, but considering the target stipulates a 3% reduction in traditional grocery, product and packaging waste by 2015, signatories to the third phase of the Commitment - launched in May 2013 - have a long way to go if the target is to be achieved. So what is stalling progress?
The two main components in retail and manufacturing waste are food waste and single-use transit packaging. "Substantial" progress has been made on food waste, according to Wrap, with the amount redistributed for human consumption rising from 21kt to 38kt from 2012 to 2013.
More could be done, of course, but with progress being made on food redistribution, this suggests the blame lies with single-use transit packaging - such as outer boxes, shrink wrap and single-use pallets used when transporting goods.
Wrap's figures show 16kt more of it was used in 2013 - a trend experts believe is attributable to the growth in convenience shopping. C-stores require smaller deliveries more frequently, which leads to an increase in single-use transit packaging. "We know the weight of single-use transit packaging has increased, which may be significantly influenced by the change towards smaller stores requiring smaller case sizes," says Wrap.
But James Lowman, CEO of the Association of Convenience Stores, points out the growing popularity of c-stores could end up cutting waste elsewhere. "The move towards convenience shopping helps reduce food and packaging waste by allowing customers to shop little and often, thus reducing the amount they throw out."
Indeed, Wrap's figures suggest progress made on packaging overall hasn't been hampered by single-use transit packaging, however. Signatories to Courtauld aim to improve packaging design to maximise recycled content, improve recyclability and avoid unnecessary food waste without increasing carbon emissions. A 4.5% reduction in the carbon impact of packaging overall has been recorded so far against a target of 3% by 2015, with Wrap attributing this to "further optimisation of packaging, increases in packaging recycling and a growth in recycled content of packaging."
Consumers
Of course, consumers have a part to play too. The third and final target under Courtauld 3 is a 5% reduction in household food and drink waste by 2015 from a 2012 baseline. Data for this won't be available for some time, but Defra figures for 2013 show a general downward trend in terms of the amount of waste from households, with an increase of 19% in food waste collected for composting and anaerobic digestion.
No matter what the final data will show, retail and manufacturing must keep up their game - even more so if plans for Courtauld 2025 go ahead. The next phase of the Commitment is expected to put the focus on the full lifecycle impact of products. Set to run from 2016, it will put much stronger emphasis on the battle to prevent food waste in light of the looming threat of global food shortages and resource scarcity caused by population growth.