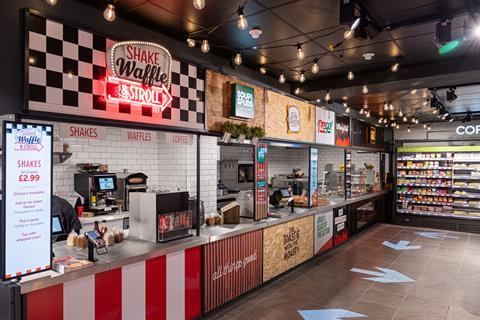 AF Blakemore is planning a wider rollout of its food-to-go concept Eat Some after finding 96% of shoppers were "impressed" with the store format trial at Spar Aberystwyth.
Speaking at the National Convenience Show at the NEC in Birmingham last week, group marketing director Sarah Ellis said shoppers were responding positively to the launch, but it was still reviewing data from the trial to ensure it was a profitable proposition going forward.
"We are reviewing the data to see what works and what doesn't work so we make sure that we take the strongest opportunities out," she said.
"The other side of food to go is there's a big operational cost to deliver it so we need to manage that and see what the waste looks like off the back of that [offer]."
The concept is currently being trialled at the 2,910 sq ft company-owned store in Wales and features six concession brands that offer a raft of food solutions "all under one roof".
The new brands, which are exclusively owned by AF Blakemore, include The Grill, WhirlyBird, Prego, Oh So Toastie, Shake Waffle & Stroll and Soup & Spuds. All food is handmade on site and prepared at the counter for consumers to take away.
"The plan is that this is stage one, and we will build from here," she said.