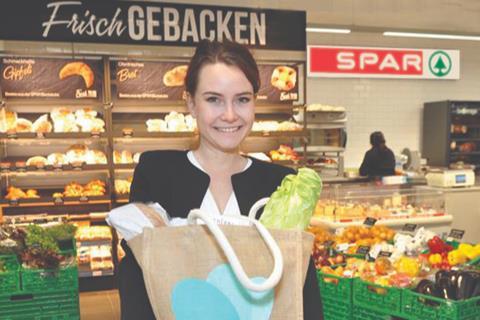 Spar International has teamed up with fast-growing social impact company Too Good To Go.
The international partnership will see both parties offer shoppers an innovative digital solution to cut food waste, particularly for fresh foods and short shelf-life items, in more than 500 stores across Europe – with the hope to expand.
Spar customers just need to download the Too Good To Go app and register to order food, which would otherwise be wasted, from their local store at a reduced cost.
The move comes as the European Union affirmed the goal of halving per capita food waste at consumer and retail level by 2030 as one element of the Green Deal.
"We are delighted to be working with Too Good To Go," said Spar International CEO Tobias Wasmuht.
"While the Covid-19 pandemic continues to impact all of us, it has never been more important to manage food waste as fluctuating consumption patterns call on us to respond with speed and agility.
"Working with innovative, entrepreneurial companies such as Too Good To Go can provide sustainable solutions during this uncertain time."
Wasmuht added the partnership was a "natural fit" for Spar International, as it also highlights its multi-solution approach to supply chain waste reduction.
Some examples include: adopting improved processes for forecasting requirements and ordering; incorporating unsold fresh food in meal solutions; price reducing short shelf-life foods; and making food donations to local charities and food banks.
"At Spar, we are deeply committed to reducing food waste throughout the supply chain as a key part of our actions as a responsible retailer," said Wasmuht.
Too Good To Go CEO Mette Lykke added: "Together, Spar and Too Good To Go have already saved more than 480,000 meals from going to waste. It's a real success story and we are so pleased to be expanding the cooperation by scaling up in all markets where we share a presence.
"Food waste is one of the biggest environmental challenges we face, and retailers are uniquely placed to rise to the challenge. I'm excited for the year ahead, and for the impact Too Good To Go and Spar can have together."