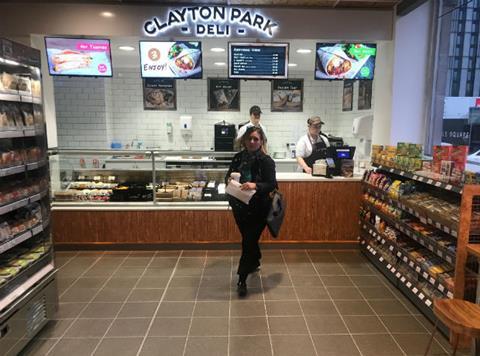 Spar retailer Paul Stone has launched a deli and foodservice concept in his new Charles Street store which opened in Manchester yesterday.

The 2,000 sq ft store has a deli counter, food-to-go fridges, a hot food cabinet and in-store seating for 10 people.

The Clayton Park Deli concept from James Hall and Co is the culmination of 12 months of development and features a salad bar, made-to-order sandwiches and wraps, protein pots, filled jacket potatoes, fresh soup and porridge and a full breakfast offer.

The store also offers a range of ice creams and Stone's own-brand Cheeky Coffee.

Stone told The Grocer the new deli was designed to extend his group's reach into foodservice, providing a slightly different offering to his other stores.

He said that the chilled counter, salads and breakfast had been performing strongly, and he was "very pleased with how it looks".

Stone first announced plans to open the Charles Street Deli at The Grocer's annual lunch in March last year, and work was expected to finish in September.

The store is Stone's eighth site after he announced the acquisition of a former Best-One store on King Street West in Manchester in March last year.